Okay, so she wasn't actually responsible for last night's power outage, but nobody can deny that Queen B absolutely killed it last night.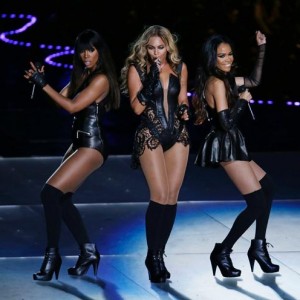 As somebody who loves television – but not sports – I was excited about two things last night: the commercials and Beyonce's halftime performance. The commercials weren't too stellar this year, but it's okay. Beyonce over-delivered and did not disappoint.
For those who missed it (and I'm sure you can find the whole performance on YouTube if you did) , Beyonce performed eight songs from her varied catalog – including "Crazy in Love," "Love on Top" and "End of Time."
And then Destiny's Child popped out! Literally, Kelly Rowland and Michelle Williams shot out from beneath the stage and landed on their four inch heels to perform "Bootylicious," "Independent Women" and – the anthem of women everywhere – "Single Ladies."
Rowland and Williams left the stage to let Beyonce end the performance with "Halo." With just the diva and a spotlight, it was a powerful way to end a halftime performance that was full of pyrotechnics, back-up dancers and holograms.
Beyonce' performance is one for the books, even if the Super Dome lost power afterwards. Where does B's performance rank for you?