If you're still wondering how the creative team behind the "Twilight" film series plans to handle the inevitable sexual scenes in the final installment of the Stephanie Meyer vampy love tale, then you are in luck. Some recently leaked photos may just give you the fix you need until the movie comes out in November.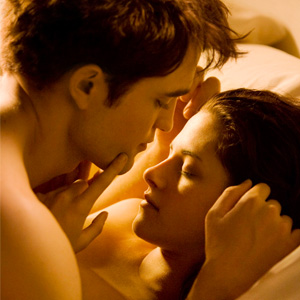 Today, photos of Rob Patz and K. Stewart surfaced, showing the two in what seems to be video stills from some steamy scenes in the upcoming movie. ZOMG, guys. Check them while they're hot, as these photos could disappear at any moment. And oh, what a shame that would be…?
Spoiler Alert!
Those of you — like myself — who have read the "Twilight" series know that in the last book of the four-part saga, Bella Swan and her shiny-chested lover consummate their repressed, angsty passion while on a secluded honeymoon getaway. Though the implied situation isn't vividly described (well, actually it isn't described at all) the aftermath is apparent: ripped pillows, broken headboards on the bed, etc. Case in point: things went bump in the night.
So how will the directors handle the scene? At some point, Twihards may just forego the desire for accuracy and loyalty to the book in lieu of more intimacy between Robsten. OK, now I just sound absolutely ridiculous.