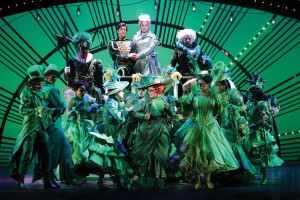 Occasionally — well, more than occasionally — I like to take a trip back to yesteryear and watch old Tony Award acceptance speeches and performances. These little stints of YouTube surfing usually start with me remembering some amazing performance by one of my favorite actors and just dying to listen or watch it. And YouTube is such a beautifully … tragic tool, so once you start surfing for one thing, you inevitably end up finding something completely different. After thirty minutes on that site, you might find yourself asking: "How did I get from The Bed Intruder Song to a collection of videos depicting a not-so-happy kitten?
These are the questions that haunt us, but I know for a fact that whenever I browse Tony vids, I generally stay within the realm of theatrical YouTube clips. Sure, I may end up in the Broadway Madlibs section, but they are still related and I still love both. In one sitting, I'll hear my B.F.F. Patti Lupone take another Tony in a memorable moment, Karen Olivo give the most adorable acceptance speech ever and much more.
Through these archives of history, we're reminded of seminal classics and contemporary powerhouses of theater. And YouTube is often kind enough to leave footage of Tony Award broadcasts and show-stoppers for every generation to see. Last year, I was particularly delighted to find and old video of Donna McKechnie, the famous Broadway triple threat, doing a tribute to "Tick Tock." No, not Ke$ha's boozy party hit, but a dance number that appeared in the original production of composer Stephen Sondheim's 1970s musical, "Company." At a 1993 concert reunion of the original cast, she performed the dance, which was specifically choreographed for her.
But If you're not like me, you might want to try Tony-surfing every once in a while. Because there's a little bit of Tony in everyone. You just have to dig deep. I'll give you a video to get you going. Remember: Related Videos are your best friend and your ever-present guide through the catacombs of YouTube.
Here's the aforementioned Donna McKechnie and the cast of the original production of "Promises, Promises," now being revived on Broadway with "Will and Grace's" Sean Hayes and "Wicked" star Kristen Chenoweth. Stay vigilant. And happy surfing!