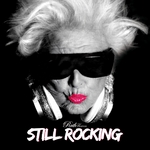 The web has been abuzz lately with the hottest new DJ to hit the airwaves, Mamy Rock. Who is she? She's a 69-year-old grandmother from England. Mamy Rock (real name Ruth Flowers) first became inspired to delve into the DJ business after she was invited by her grandson to a disco in London for his birthday celebration. After entering the club and feeling the beats, Flowers began  talking about her aspirations to work with house/electro music. One brave, and slightly insane, producer rose to the challenge and collaborated with Flowers on some tracks.
The result has been quite impressive: a catchy single called "Still Rocking," slots at European clubs and an invitation to perform at the Mecca of music festivals, Glastonbury. I'd say things are going pretty good for Mamy Rock at the moment and she probably made her grandson the coolest kid in school.
At a time when most musicians would have bowed out gracefully 30 years ago, Mamy Rock is lighting up the European club circuit from Paris to Milan and back again.
Check out her single "Still Rocking:"