As we are now entering summer in the Midwest, the Climate March is preparing to deal with major storms, including tornadoes. Last night after walking about 16 miles we arrived at our camp — the beautiful Riverside Park in Fort Morgan, Colorado. It seemed like a small paradise, with lots of trees and a pond and a swimming pool with showers. But not long after dinner our little paradise turned into chaos.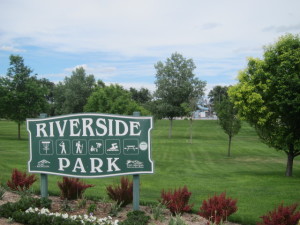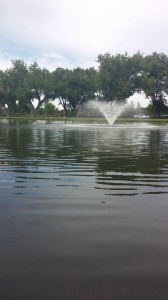 We were expecting thunderstorms, but what came was much worse than the New York thunderstorms I'm used to. We saw the clouds gathering overhead and the winds were picking up a little. A man named Marcus with his two adorable pit bull puppies had joined us for dinner, and we were in the midst of talking to him when we saw a sort of misty wall coming toward our campsite. The thunder was rolling and fierce flashes of purple and blue lightning spider-webbing across the sky. We all started running around and trying to get our things under the pavilion before the rain hit, and I was getting some footage of the scramble when I looked up to see two clouds starting to swirl around each other.
I called for Sarah, our logistics coordinator who grew up in the Midwest. She told us not to worry, but just in case, pointed to a building that would be good to hide in if a tornado were to touch down. I kept a nervous eye on the clouds, and about five minutes later, to my horror, it started to spiral and come down. I was terrified and felt frozen by my fear. I had never experienced a tornado in my life and I had never been formally trained on what to do if there was one.
It turned out to be nothing and the spiral dissipated, but Ed, the founder of the march, pointed out that standing under the metal pavilion during a lightning storm was not a good idea. I grabbed my electronics and my stuffed dog, Snowy, and made it to the gear truck with some others just in time to miss the rain. The rubber tires would help with any lightning strikes.
It was absolutely torrential. Hail also fell with the rain, and within ten minutes there was a river rushing down the road that the gear truck was parked on and the lawn our tents were on was flooded. I had to put on my rain coat and run out to my tent and evacuate the rest of my items out of it, which I stashed under the pavilion, and then I returned to the gear truck to ride it out. All of my bedding was soaked.
Eventually the weather did clear, and we had a beautiful sunset. But our campsite was trashed and there was a chance of more storms in the night, so along with Ben, Berenice, Zach, Bryant, and Kelsey, I slept in the gear truck. Ben strung up hammocks between the shelves and he and Berenice slept in them. Kelsey, Zach and I cleared off some shelves and slept on the shelves, and Bryant ended up sleeping on the floor. A kind local had donated a bunch of blankets to us, so I was able to use those because all of my bedding was wet. It was mildly uncomfortable, but I slept well enough and it felt good to be safe.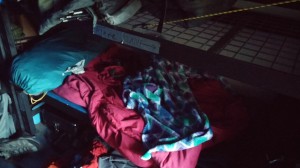 My gear truck bed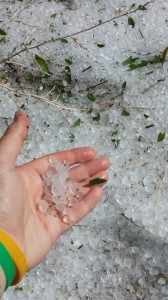 Today our 19 mile walk got cut short about 10 miles in as we were passing through Brush. Our planned campsite was between Brush and Akron, right in the zone of a tornado warning for tonight. The marchers came into Brush to find our vehicles parked at a café with our coordinators, Jimmy, Sarah and Chris calling churches and local organizations to find a place to stay tonight that included a storm shelter. After about a half an hour, we landed permission to stay in Memorial Park with access to one of the park's buildings. The park was just a half a mile away from the cafe, and our walk was cut nearly in half. It's almost like a mini rest day, but at the cost of having potential impending doom hanging over our heads for the night.
For now the weather is bright and sunny, but I can only guess at what tonight will bring. I have never felt as vulnerable in my life as I do now on the march. At times, all I have standing between myself and a raging sky are the thin plastic walls of my tent. As frightening as it can be, I am glad to have this experience. Humans are not invincible, and we are not in control of nature. We can build our walls as high as we want, but at the end of the day, nature will always be stronger.
Somehow, my new-found vulnerability makes me feel more human. It makes me feel more alive.