Today I am writing from a gas station in Benkelman, NE, during our second day of walking through Nebraska. Yesterday, our crossing from Colorado into Nebraska (which also happened to be the Climate March's halfway point) was absolutely magical, and the day only got better from there.
Our last full day in Colorado ended in an unforgettable sunset, and we all gathered around to sing our sunset song, which goes like this:
Gentle blue giant spin us around
Safe till the morning light
This pretty planet spinning through space
Your garden, your harbor, your holy place
(repeat)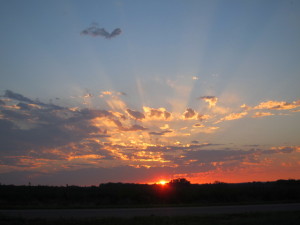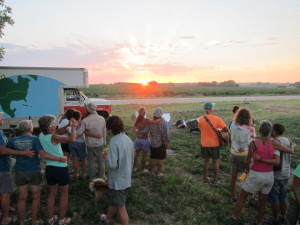 Singing our song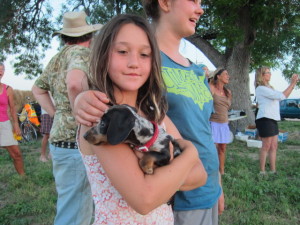 Our guest, Kade, and her dachshund puppy, Spot
We left camp at 6 a.m. to walk a mile and a half to Nebraska, which meant we had to get up at 4 a.m.! Lala, our breakfast chef, put on meditative music and we completed the morning's activities in complete silence. This was really awesome for me, because I've been silent and surrounded by talking people for about a week now. With some exceptions, I often find that a lot of people act differently or avoid communicating with me all together because of how difficult and time consuming it can be. It's hard to understand how that feels unless you've been silent yourself, so having everyone experiencing what I was felt very refreshing. Not to mention, the morning went without a hitch — it was actually more efficient than usual. An incredible sunrise helped deepen our meditative state as we went about our morning routine: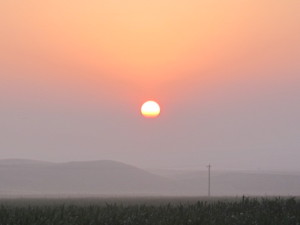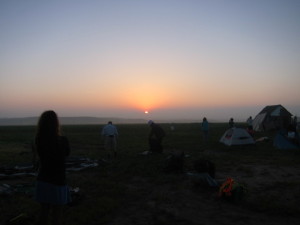 When we arrived at the border, we found our Colorado State Coordinator, Chris Ververis, and our new Nebraska State Coordinator, Anna Wishart, holding up a portal for us to walk through. Our crossing was much more ceremonious than the New Mexico to Colorado crossing.
Me with the Nebraska sign!
Photo credit: Deb James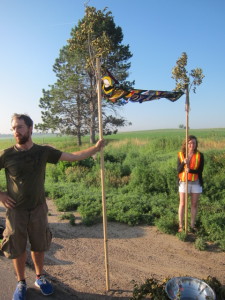 Chris Ververis and Anna Wishart holding up our portal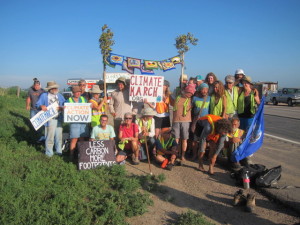 The group post-crossing ceremony
Each marcher passed through the portal individually. On the Colorado side of the portal there was a bowl, and as each marcher passed through we poured some of our water into the bowl and announced what we were leaving behind and what we looked forward to moving into Nebraska.
Due to my silence, I was unable to announce my intentions, but as I poured my water into the bowl I silently thought about my life before the march and how it was time to let that go. Never again will I accept a life where the "human world" and the "natural world" are two separate things. I have been empowered from the March, and now I am confident that I can walk or bike to most places I need to go. I've discovered that simple living is what makes me happiest, more so than the materialistic American norm.
I look forward to meeting many new amazing people and gathering their stories to carry with me to D.C. I look forward to deepening my connection with nature and subsequently, my spiritual development. After pouring in my water, I turned to face Colorado and bowed, thanking the state for all it had given me, and then I passed through into Nebraska.
It was a 19 mile day, and I walked half of it and biked the other half. When I arrived at our camp on a rural dirt road in Parks, Nebraska (population 57), I found that it was practically flooded with local visitors and animals. We had lots of visitors, each of which brought their pets (cats, dogs, horses) along with them. It brought a very uplifting energy to the camp. I think so far, small towns are my favorite place to be. Everyone knows we're there within an hour of us setting up camp and they're always excited to see us. Not to mention it's typical for them to bring us food … last night, some locals made us six homemade pizzas and brought them to camp for dinner. Our Nebraska State Coordinator is working on getting 300 pies donated to us — we've eaten 18 so far in our first day and a half here in Nebraska.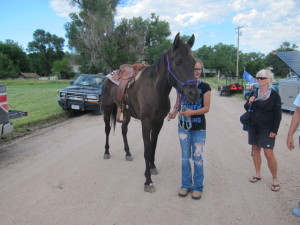 A local girl and her horse
 After dinner, one of the locals offered to take us out to a nearby lake for us to go swimming. A big group of us — plus Finnigan the dog — happily jumped into his cluttered truck bed and he drove us down many long, winding dirt roads before we arrived at a beautiful little oasis tucked away from the rest of the world. It was a delight to see such a large body of water; the end of Colorado was all flat land with nothing in sight but little windmills, train tracks, and an endless sea of prairie grass.
The water was cool and refreshing, as was our laughter.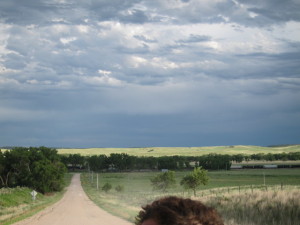 A beautiful view of the sky from the back of the truck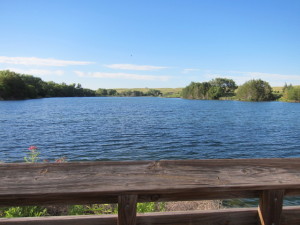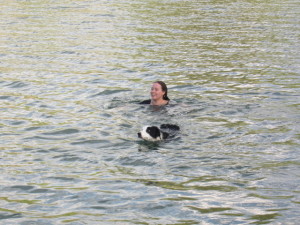 Nebraska State Coordinator Anna Wishart swimming with her dog, Finnigan.
 Our breathtaking first day in Nebraska and the lovely community of people in Parks refreshed my energy to walk and continue fighting for environmental justice. It felt as though all the positive intentions I had developed at our border crossing ceremony were already coming true. I look forward to crossing the proposed Keystone XL Pipeline route in Nebraska with my fellow Marchers and getting to know the locals who are affected directly by the issue.