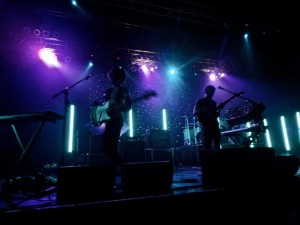 That didn't take long. I have reached the point where I am so bored at home that I decided to recap the ridiculous weekend I had which basically involved gallivanting around Southern New England. This is the story of the hallowed "Four in Forty-Eight."
This whole plan was hatched when M83 announced their Boston tour stop at the beginning of Thanksgiving Break. A joyous freakout was had and I snapped up tickets as soon as they went on sale.
It continues. Sometime later, Phantogram revealed a Boston show the night before the M83 show. Now this concert happened to be an early show because it was at Royale Nightclub. They have an early performance, clean up and then open the club so people can get their fist pump on.
But wait, there's more. The Airborne Toxic Event also decided to grace Boston with their presence that same night. My first reaction was, "this is horrible. I have to choose between two awesome bands." My second reaction was, "no. I shall attend both." Fast forward through frantic and excitable phone calls concerning set times and distances between venues. I discovered that it was plausible to go to Phantogram and then hustle over to the Orpheum Theater to see TATE. Boom. All I needed to know. Airborne tickets were then in my possession.
The weekend came around and I picked up my friend and concert comrade so we could head back to Rhode Island.
We made such excellent time getting back to The Ocean State that we were able to hit up The Joy Formidable in Pawtucket for an inexpensive addition to the lineup. I was blown away by their performance at Lollapalooza this summer and they delivered the goods even on a small stage. Lead singer Ritzy Bryan looked like some kind of adorable crazed witch as she thrashed about the stage, tearing away at her guitar. The crowd ate it up as they jumped along to the band's ferocious power chords. The set seemed a bit short, but they packed a lot in there and the audience was jovial and supportive.
The next night, we got to Royale about a half an hour before the doors opened. For some odd reason, it was not bitterly cold in Boston and standing outside was relatively pleasant. We get into the club and the décor is pretty cool with deep hues and mood lighting. I love going to new venues.
This band called Exitmusic opened and I had never heard of them before. I can describe the lead singer as a touch of Zola Jesus mixed with a dash of seriously depressed Florence Welch. The woman had quite the voice on her and t worked well with the gloomy beats that the rest of the band produced. I'd like to give a shoutout to the person that held onto the balloons that were floating around. They got annoying.
Phantogram was impressive as usual. They performed with a beefed up stage setup which featured some of the most blinding strobes I've ever seen (or not seen) in my life. Retinas are intact, so that's good. The groups infectious trip-hop had the crowd swaying and lead singer Sarah Barthel's hair had a mind of its own. The set featured songs from their debut album, "Eyelid Movies," with new songs sandwiched in the middle. Guitarist Josh Carter seemed to be having some trouble with getting his sound right, but that certainly didn't take away from his performance.
Following Phantogram's encore, we booked it down the stairs of Royale and out onto the street where we hoofed it down Tremont Street to Orpheum.
We made it to our seats about halfway through Airborne Toxic Event's first song. I consider that a fantastic success because I generally like to be 15 minutes early to everything. Even I realized those were lofty expectations.
The last time I saw TATE was back in the summer of 2009. Since then, they've grown as far as popularity is concerned and the Orphuem was packed. They sampled from both their debut and sophomore albums which made for a nice balance. At one point, lead singer Mikel Jollett climbed up a speaker tower and into the mezzanine where he sang in front of violinist Anna Bulbrook's parents. Every time the bow so much as touched a string, cheers erupted from the crowd in support of the hometown gal. The band performed a double encore which featured four songs. Two of which were the sentimental "Graveyard Near the House" and "Innocence," both incredible tunes.
Finally it was time for the finale of the weekend, M83 at the House of Blues. M83 was the first live band I ever saw when they opened for The Killers. I was excited to get back to where the addiction started. Before the show even started, we befriended these two guys who were standing behind us and we started talking about shows we've been to before. They were two of the nicest guys I've ever met at a show. So if you dudes read this, what's up?
The show opener was Active Child, a guy who plays harp with a backing band. It's no wonder he plays the harp, he has the voice of an angel. I'm always a fan of an artist who can sound better live than on their own album and Active Child definitely does that. I'm not sure I've seen an opening act who could come back to the same venue in a month and sell it out based solely on one performance. I became a fan instantly.
Following the breakdown and setup intermission, the lights dimmed and the audience screamed for M83. I was a bit surprised when the band failed to take the stage and what we were presented with instead was the alien fly-looking creature from the band's latest album, "Hurry Up, We're Dreaming." The thing raised its claws/paws/hands as music began playing. He left the stage and lead singer Anthony Gonzalez emerged with his band members in tow.
The set drew heavily from the latest album and its predecessor, "Saturdays = Youth." Heavenly synthesizers rattled ribcages and made the audience rock along to the beat. Gonzalez was joined on stage by vocalist and synth siren Morgan Kibby. She shook along to the beat while Gonzalez swapped his guitar for synthesizers and then back to guitar. At one point, the audience was applauding so much that Gonzalez could not speak for a couple of minutes due to the volume.
I'd like to pause and praise bass player Jordan Lawlor. We met him after the show and started talking to him. He's only 20 years old. He sent a video of himself playing bass to Gonzalez after Gonzalez made it known that he was accepting applications for a bassist. Apparently he liked what he saw because the kid no longer sells printers in New Jersey, but is touring the world. Sweet deal. And he can perform! It's one thing to play the music, but he was jumping on bass drums and pouring his heart and soul into everything he did. Well done, sir.
The band's encore was basically the entire set crammed into 15 minutes of sheer awesomeness. The crowd lost control once "Couleurs" began blaring from the speakers. The group kicked it into overdrive as did those present. When everything was all said and done, just about everyone had a grin on their face.
We hung around outside the show for 2 hours to meet Gonzalez and that pretty much put a satisfactory end to a weekend that I'll be filing under, "Remember For Life." And that's it. Four concerts in 48 hours. Not bad.