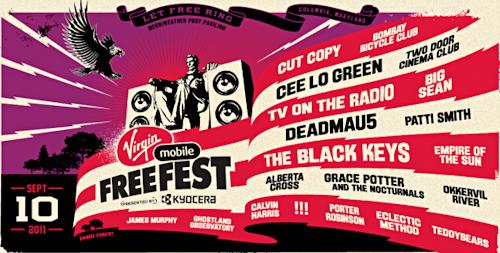 It took a little longer than anticipated and required more than a few detours around washed out New York, but I successfully rendezvoused with a group of friends this weekend in Maryland for Virgin Mobile's annual FreeFest at Merriweather Post Pavilion.
I was a little concerned for the weather since the forecast called for a thirty percent chance of thunderstorms. I learned at Lollapalooza that "thirty percent chance" actually means all-out deluge. However, upon seeing sunny skies and fellow fest-goers tailgating with Kings of Leon's "Slow Night, Slow Long" blaring from a portable speaker, I knew it would be a good day.
So just what happened? Here's a breakdown:
Alberta Cross: Who is Alberta Cross? I had no idea. But they were playing before Two Door Cinema Club and I wanted a good position for that show. This turned out to be an excellent decision because I was impressed with what I heard. I guess their sound could best be described as bluesy, Southern rock. I'd compare them to the South African band Civil Twilight (check them out).
Two Door Cinema Club: Somebody call for a dance party? TDCC answered that call. The Irishmen got the kids jumping with their infectious electro-pop. Highlights included fantastic audience participation during songs such as "I Can Talk" and "Do You Want It All." I also enjoyed the middle-schooler in front of me showing off his sweet tat to his gal-pals who I determined to be possible love interests.
Cut Copy: If there was anywhere I wanted to risk damaging my horribly pale skin in the 4pm sun, it was at the West Stage grooving to this electro dance collective. The Aussies kicked things up a notch as multi-instrumentalist Tim Hoey mounted the drum kit so he'd have a better angle at which to smash a tambourine against the cymbals. The crowd was full of sweaty bodies as they jumped around and sang along to hits such as "Hearts on Fire," "Need You Now" and the super-charged "Lights and Music."
TV On the Radio: TVOTR is probably the band I came to see the most out of anyone on the lineup. The Brooklyn boys have one of this year's best albums ("Nine Types of Light") and they still have solid material in their arsenal from previous releases, "Return to Cookie Mountain" and "Dear Science." Their set was an indie-rock dream come true: electrified while still remaining personal. The crowd lost it during the band's set-closing number "Wolf Like Me," which transformed the pit into a sea of flailing appendages.
The Black Keys: The popularity explosion these two Akron, OH guys have endured this year is incredible. After snagging three awards at this year's Grammys for their album, "Brothers," many consider them to be the last blues survivors in popular music. It came as no surprise that the line to get into the pit for their set was monstrous and that the rest of the pavilion was nearly filled to capacity. The band suffered a slight delay due to technical problems, but made a grand entrance to thunderous cheers. The first half the set consisted primarily of material from older albums while the last half was dedicated almost exclusively to "Brothers." The set was energetic and it is obvious that both Dan Auerbach (lead singer/guitarist) and Patrick Carney (drummer) are extremely gifted. The duo brought the night to a satisfying close with a dynamic rendition of "Your Touch."