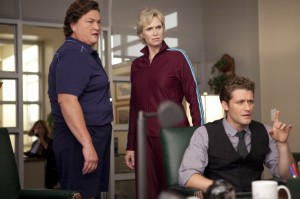 I still can't wrap my head around the fact that now, every week, I get to sit in front of my computer at 2 a.m. on Thursdays to catch up on the latest episode of "Glee." It's back. It's big. And I couldn't be more excited. After watching the first episode of the second season (can you believe it's only the second season?) I was left reeling over the amazing song choices, excellent casting additions — Cheyenne Jackson, anyone? — and overall … gleefulness of the newest show.
I particularly enjoyed the cast's energy throughout the entire episode. From hallway fights to tear-jerking ballads, "Glee" delivered on the many levels that make it such an entertaining dramedy. Though I wasn't too happy with the pacing of  some key events that I can't release because I hate writing spoilers just as much as I hate reading them, I was pleased with the direction that the cast and crew seem to be going in with this new season. In a way, they're returning to the campy, self-aware vibe that dominated the first few episodes of Season One.
Because I'm about to explode due to the lack of specifics in this post, I will say one thing: It's good to see Quinn back in her signature Cheerios gear. And that's all I'll say! Zipping it. Now.