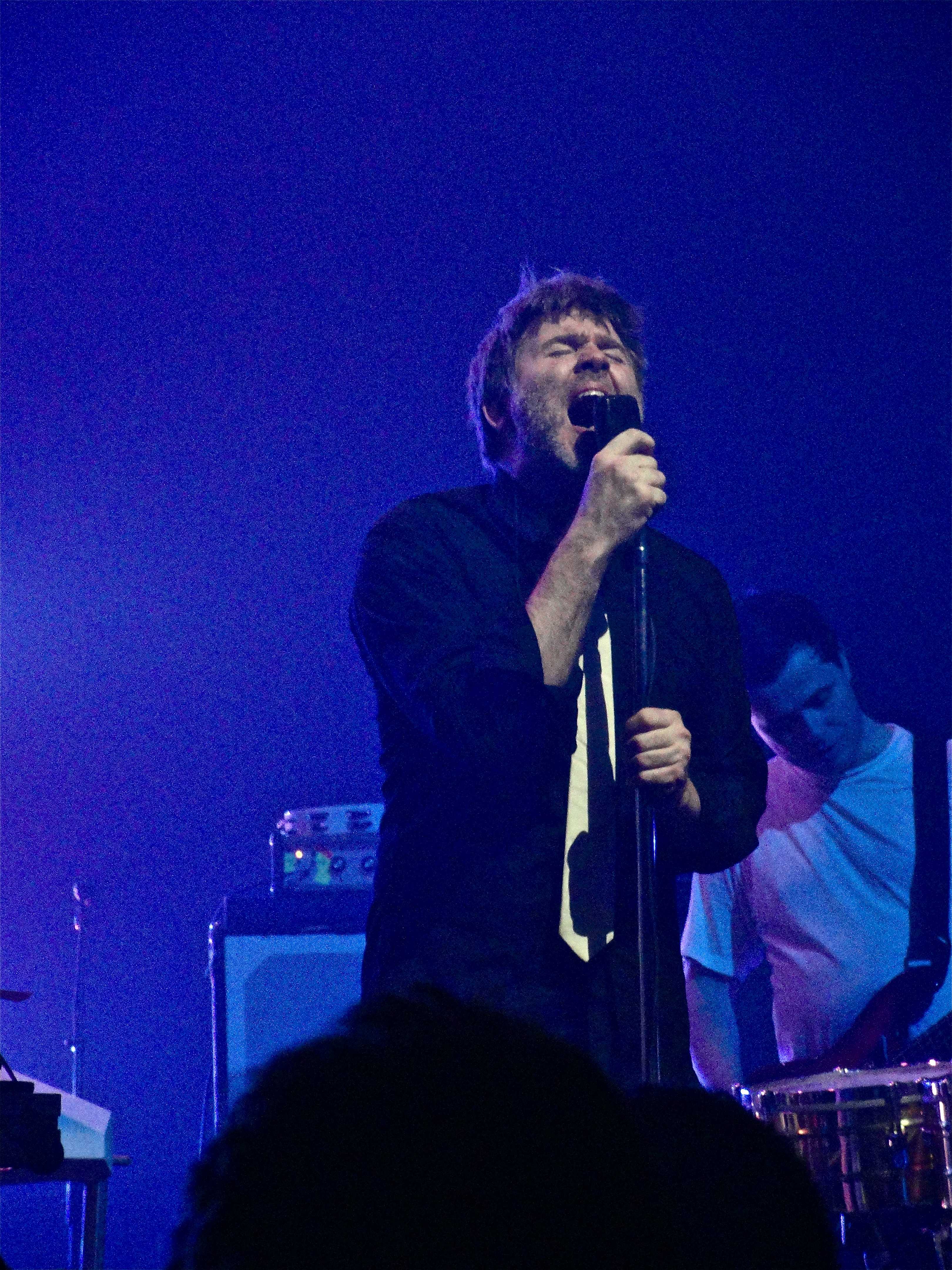 You may remember me ranting about how I was unable to score tickets to LCD Soundsystem's last show ever at Madison Square Garden tomorrow. Well, the band scheduled four shows at a mid-sized club venue called Terminal 5 in the Hell's Kitchen section of NYC. These four shows occurred on Monday, Tuesday, Wednesday and Thursday. It was going to take more than a couple of scalpers to keep me from seeing James Murphy and his posse go out with a bang. Sure enough, I got some friends and myself tickets for their penultimate show last night.
I had never been to Terminal 5 before. Going to new concert venues is like meeting new people for me. It's a thrilling experience because you learn so much based on the first impression. Sandwiched between 11th and 12th Avenues, T5's black façade looked plain enough, but once you entered, everything changed. Chandeliers hung from the ceilings leading into the hall. There were small alcoves and hallways that gave the place a homey feel. Even the bathrooms were cool with their blue light fixtures. The place had history and character.
Once you enter the actual hall, you are graced with three levels of general admission standing room: a floor and two balconies. If you've ever been to the House of Blues in Boston, it's the same thing except a the HOB is a little bigger and has more bars. But enough about architecture, it was music we were there for.
The opener was an Irish DJ by the name of Shit Robot. The only thing I knew about him was that he was part of James Murphy's (the lead singer of LCD Soundsystem) record label DFA Records. Once again: first impressions.
Assembled on stage was a sizeable projection screen with a rectangle cut in the middle of it. As the lights went down, the screen lit up with green squares and patterns. Then Shit Robot emerged. The DJ wore an illuminated contraption around his head that made him look like one of your favorite video game characters had come to life. The android gave us a taste of some heavy layered synthesizer elements with groove-inducing percussion. As the sound intensified, so did the projections. It was an incredible sensory experience. As the masses shuffled along to the beat, the robot nodded along while manipulating the instrumentals.
At one point, he was joined on stage by Nancy Whang, the go-to girl for most of the keys and synthesizer elements in LCD Soundsystem. Shit Robot laid down a funked up beat and Nancy took up the mic. The song was called "Take 'Em Up" and with Nancy's angelic voice coming from the speakers, the crowd found it hard to stand still as they cheered her on.
Shit Robot went on to play a full hour-long set (lengthy for an opener) full of everything from trance inducing cuts such as "I Found Love" to songs with boundless intensity like 'Simple Things (Work It Out)."
Then it was time. Cheers erupted from the audience as the members of LCD Soundsystem emerged onto the stage one by one. James Murphy was the last to appear and was greeted with overwhelming enthusiasm to which he acknowledged with a simple, "Hi, everybody." As the ponderous drum riffs of "Dance Yrself Clean" started off, those present let out one more cheer in anticipation of the fun to come. As the song built, so did the movement. From simple shimmies to hip-swiveling to head nodding. The song finally reached its highest point with thundering bass synthesizers and the audience lurched up from the floor and surged towards the stage. It was impossible to stand still as you could no longer tell where one sweaty body began and another ended. We were one collective mob moving in sync. Murphy fed off the energy from the band's fans as he bellowed out over them with relentless ferocity with the support of a full-blown men's chorus behind him.
They wasted no time between songs and launched right into the simple yet amazingly addicting "Drunk Girls." The crowd continued to rush towards the stage only to be sent reeling backward by the metal barricades at the front. It was an ebb and flow of human bodies. Even the creepy bear creatures that are featured in the music video made an appearance and started crowdsurfing. I initially thought the band brought them, but after the song Murphy himself declared that the two fans were "disturbing." (Try walking by yourself after the show and have them sneak up behind you. That's disturbing.)
The group ran through a couple more songs that kept the energy of the room at a level of mild euphoria before they stopped the show to make an announcement. Murphy told us that the show would actually consist of three sets and there would be breaks in between. They were going to play for over three hours.
Right after the announcement, the jittery piano riffs of "All My Friends" caused those congregated to let out shrieks of pleasure. While I was hoping this song would be the last song I ever heard LCD play live, I wasn't going to complain. Murphy led the anthem as the crowd picked it up and drowned him out during the final minutes as they demanded to know, "where are your friends tonight?"
END OF SET 1
After the break, the band returned to play the hallowed "45:33," a 45-minute long stamina strengthener that they never play live. The song is broken into sections so it at least doesn't feel like 45 minutes as you're getting one of the best workouts you've ever had. During the second part, comedian and musician Reggie Watts joined the group on stage for a soulful duet with Murphy. Watt's powerful vocals were spot on and brought an entirely new element to an already impressive piece of art.
Fast forward half an hour through some serious sweat-heavy jams, beer being spilled on me and an elbow in the ribs.
END OF SET 2
Set 3 was where it was at. In fact, the lineup may have been the greatest lineup of six songs I've ever heard at a show. "Us v. Them" into "North American Scum" into "You Wanted a Hit" into "Tribulations" into "Movement" into "Yeah (Crass Version)." It was so unbelievably intense as people let themselves go in an all-out ragefest/freakout. I was psyched they played "North American Scum" because it's definitely one of my favorite LCD songs and it's been off their playlist for years. The fans jumped and flailed as they screamed along to every word under the adoring eyes of Murphy and his crew. The energy never died and the band closed out the set while people caught their breath and labored to call them out for an encore.
ENCORE 1
The band returned to play fan-favorite "Somebody Great" which talks about losing someone important in your life. Seemed appropriate given the situation. They also broke out the pretentious track "Losing My Edge" that has Murphy affirming his status as the original hipster.
ENCORE 2
Even though Murphy lamented over the deterioration of his voice after 4 shows and the drummer couldn't feel his legs, they came back out to perform "All I Want" off their latest album, "This Is Happening." They also performed a barn-burning cover of Harry Nilsson's "Jump Into the Fire" which got the crowd moving yet again. And the last song LCD Soundsystem will ever play live at Terminal 5: "New York I Love You, But You're Bringing Me Down." The heartfelt ode to The Big Apple hit home with many of the fans as they raised lighters and accompanied Murphy's mournful vocals. As the band finished off strong under blinding strobes, hundreds of hands reached out for more but the music, and the band, were gone. When it was all said and done, it didn't matter if I knew the person standing next to me or not, I was with "All My Friends" and we just witnessed something amazing.
Check out some of the fan footage of LCD's last night at Terminal 5:
"Daft Punk Is Playing At My House"
Portion of "45:33" Featuring Reggie Watts