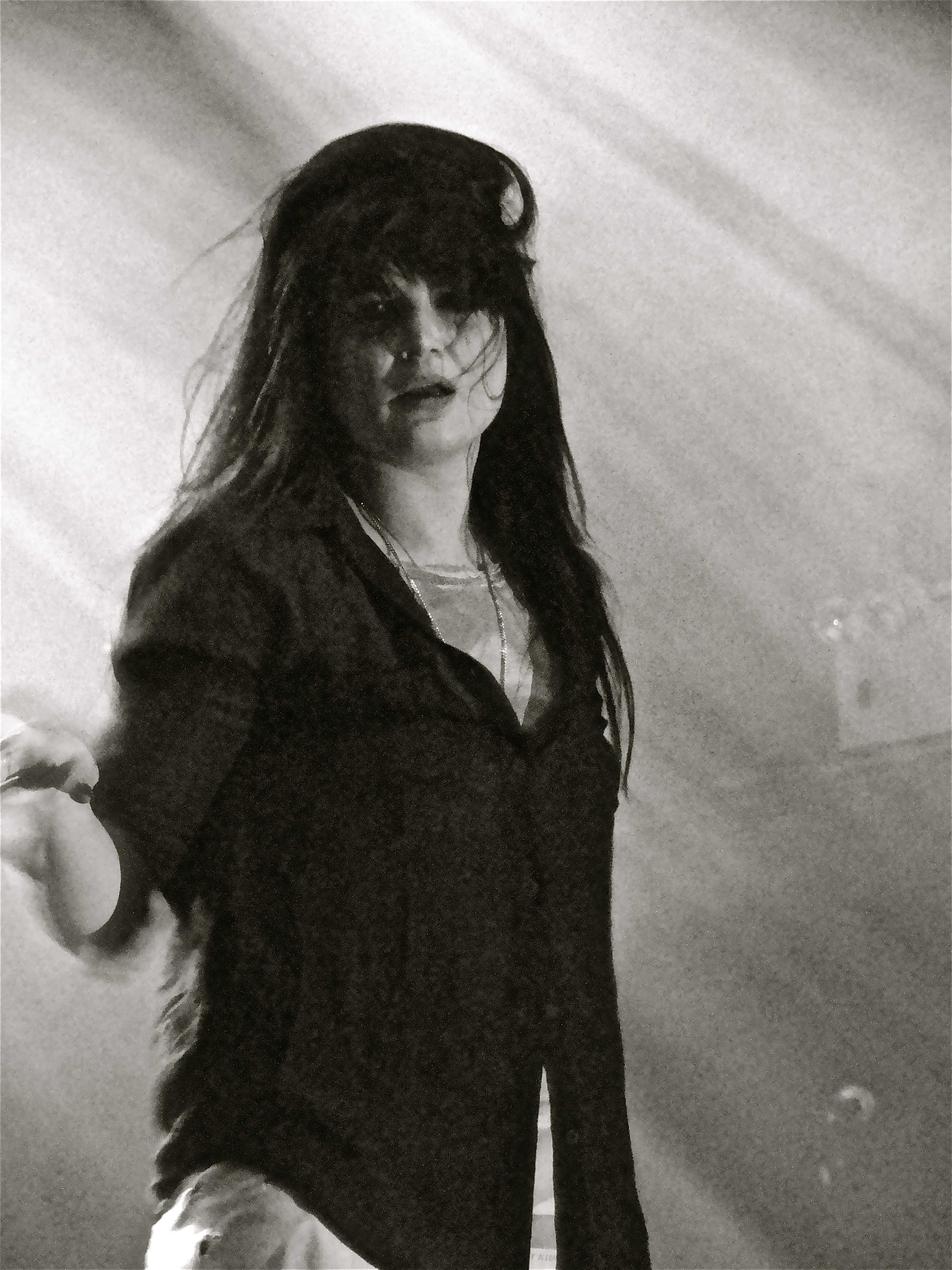 Alison Mosshart and Jamie Hince, the duo better known as The Kills, brought their show to New York City's Terminal 5 last night. "Blood Pressures," their new album, has been out for a few weeks now and the pair were ready to show it off in style.
The Entrance Band, a trio of Californian rockers, opened the night as they probably should have, given their moniker. I've got to say, this was the first time I've ever seen more people pay attention to a bass player than the lead singer. Female bassist Paz Lenchantin was the definition of sex appeal. She shimmied along to the group's grungy blues-tinged rock while her mini dress clung to her thin frame. She was one of the most dynamic bass players I've seen perform (and not for her looks, but for her style of playing) and I knew there was no way she was just starting out in music. Sure enough, she has played with the likes of A Perfect Circle, Queens of the Stone Age and Billy Corgan's side project, Zwan.
While his bandmate stole the show, lead singer Guy Blakeslee left much to be desired. He hardly ever stepped away from his hunched-over position at the mic for the first half of the band's set. Eventually, he realized he is a performer and mounted an amp a couple of times. The group's songs tended to blend together and didn't leave much of an impression. It's hard to be wowed when a band uses the same structure over and over again. Verse, chorus, extended guitar solo, rinse, wash, repeat.
Next on the bill was Cold Cave. Who ever knew that Cut Copy had an evil twin?! I certainly didn't. While Cut Copy is headlining a love-fest upstairs, you'll find these guys rocking out in the basement with the dregs of society. Cold Cave won't stop until a full-blown Krautrock revival has been sparked. Everything about them says confidence and treachery: from the lead singer's flak jacket to the synth master's glaring stare-down at random audience members. I wouldn't want to be on the receiving end of that, I'm pretty sure his eyes were lasers.
As intimidating as they were, Cold Cave came to play with their demoralizing, down-and-out manifestos. Extended periods of sonic distortion allowed polished songs to rise up from the primordial ooze of deconstructed sound. I can't wait until they start headlining shows because once you get a room full of people that are there for them, and not another band, something magical is going to happen.
And then we were left with the man and woman of the hour. No, not William and Kate, but Jamie and Alison. The two emerged from the shadows of the stage and stepped into the hazy blue light as cheers rang out. From the first note of Jamie's guitar, the party kicked into high gear and there was no looking back.
Mosshart prowled around the stage as she taunted the crowd with each lick of the guitar. She transformed into a human cyclone of tangled black hair and leather right before our eyes as she stood on top of speakers.
The set sampled heavily from "Blood Pressures" and included songs such as "Future Starts Slow," "Heart is a Beating Drum" and "Baby Says." But they also managed to work in fan favorites like "Sour Cherry," "Pull a U," "The Tape Song," and "No Wow."
At one point, Hince had to play bouncer in the middle of "Baby Says." One male audience member was getting into an altercation with a girl. As the scuffle broke out, Hince (while still playing) whistled for the guy and told him to "[expletive] off" and made a motion for security to kick him out as rousing cheers rose from the masses. Hince went on to unleash a fiery guitar solo soon after. At the conclusion, Hince justified his actions by saying, "it's a bad image when a guy wants to have a go with a girl. Don't be [expletive] stupid." Jamie Hince: underrated guitar player, bouncer and all-around good guy.
The chemistry between Mosshart and Hince can only be described as sexual electricity. The show unfolds more like a romantic drama than a rock concert. One song finds Mosshart leaning in close to Hince and sharing a mic, the next he's pretending his guitar is a gun as he shoots her down. The tension was astronomical during "Kissy Kissy." Mosshart would tease Hince by coming close and then isolating herself at the end of the stage, waiting for his next move. And the crowd ate it up from the beginning until the end when the two eventually embraced and walked off stage triumphantly.