Assistant Accent Editor Kelsey Fowler addresses this fall's celebrity wedding gowns from the simple to ornate.
Hot
Alexa Vega in Ian Stewart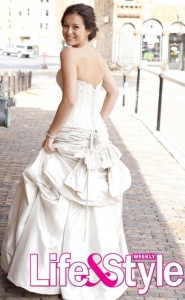 This "Spy Kid" is all grown up, donning a bodiced ivory dress for her wedding. The strapless lace-up bodice top closes with ribbon in the lower back, while the front has vertical, detailed beading. The full skirt flatters Vega's figure with well-placed gathers of the fabric adding dimension and volume to the bottom of the gown. The bow in the back creates a spirit of youthfulness perfect for the 22-year-old bride. The dress evokes a classical silhouette while remaining modern and clean with its simple lines and youthful charm.
Lukewarm
Katy Perry in Elie Saab Haute Couture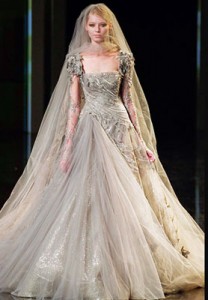 While no one has seen pictures of her in the dress yet, Katy Perry is rumored to have worn a full tulle, Disney-princess ball gown at her wedding. The dress is an ornate blend of sequinned fabric, mesh layers and cool gray tones. While dramatic in volume and eye-catching in color, the dress looks more like a costume piece than a bridal gown. The layers of fabric near the bodice resemble silver leaves, and the capped sleeves add a matronly look. The dress is beautiful and detailed from the waist up, but the skirt has too much tulle and mesh on top of a shiny, sequinned underskirt. The dress has no focus and is too busy for even Perry to handle.
Not
Crystal Bowersox in Tara Lynn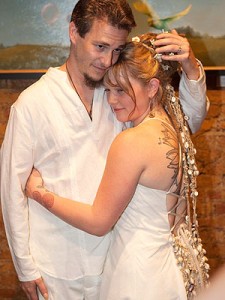 The blend of organic, hemp and cotton fabric in this dress creates a dull color and falls in an awkwardly straight line on American Idol season nine finalist Bowersox. A criss-crossed ribbon back looks more like a junior prom sale rack dress than something for a bride's big day. On her lower back, covering her rear, is a fabric panel lined with seashells, matching those strung in her hair. The thin straps create a halter in the front as well, making the dress look cheap and unflattering. The skirt also has a beaded sunflower pattern on the front, adding to the mismatch design.