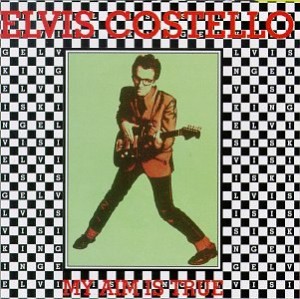 but Welcome To the Working Week. Lead track off Elvis Costello's 1977 debut, My Aim Is True, this is an apt demonstration of Costello's style and attitude, angry, sneering, unforgiving. Before Costello made it in music he worked a number of office jobs. That may not be the true soul-wrenched suffering we demand of our artists these days, but we can still dig the alienation. Or can we? I know we're doing our best to building up the next generation of that bedrock  USian institution — the managerial class. But that's okay, for fans of the grind he throws in a little pathos: "Now that your picture's in the paper being rhythmically admired…" Hmm, one to ponder…
And to prove that he's still doing it, here he is on Dave Letterman a couple years ago. The references may be a little outdated on "Chelsea" but I'm sure you can figure it out with Wikipedia.
Stuff this one in the inter-office mail.