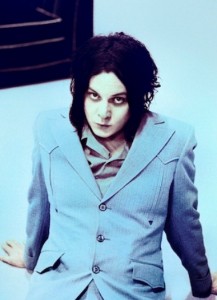 Jack White didn't really die, but his new video for "Sixteen Saltines" will have you thinking otherwise. The visual interpretation of the track, which will be featured on his upcoming album, Blunderbuss, finds Jack coming in close contact with some extremely troubled youth. Okay, they're actually just plain psychotic. You can watch the video below to discover just how much so.
We can only come to expect whacked out creations from Mr. White after some of the stuff he's produced lately. Last week, his Tennessee-based label, Third Man Records, held a literal release of his other new song, "Freedom at 21." Record store shelves were obviously too plain and traditional, so he and his label representatives took to the skies by releasing 1000 biodegradable balloons which contained the single on a special flexi-disc. Unsuspecting members of society who found the balloons received instructions to register their balloon with an online tracking system. At the last check, the farthest one was found just outside of Tuscaloosa, Alabama. That's quite a trip!
But White's escapades don't end there. Before the balloon launch and the creation of his trippy new video, his label released a special vinyl that spins at a blistering 3rpm. That is impossible to play on any conventional record player. Singles tend to be released on vinyl that plays at 45rpm. Listeners will have to sit by their record player and press the record in order to slow the revolutions to the required speed…unless you want to listen to a very short snippet of Alvin and the Chipmunks.
What will he think of next? Watch the video for "Sixteen Saltines" below.