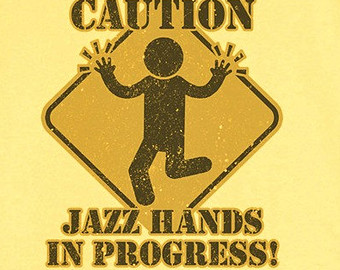 "So…my Mom has this thing where she makes me take Jazz Hands photos around the world…"
This was the phrase I was constantly repeating as my friends and I journeyed around Europe. As it turns out, most people were more than happy to comply and take a jazz hands photo with my friends and I! Here's a collection of the greatest Jazz Hands pictures to ever have been taken by Ithaca College Students!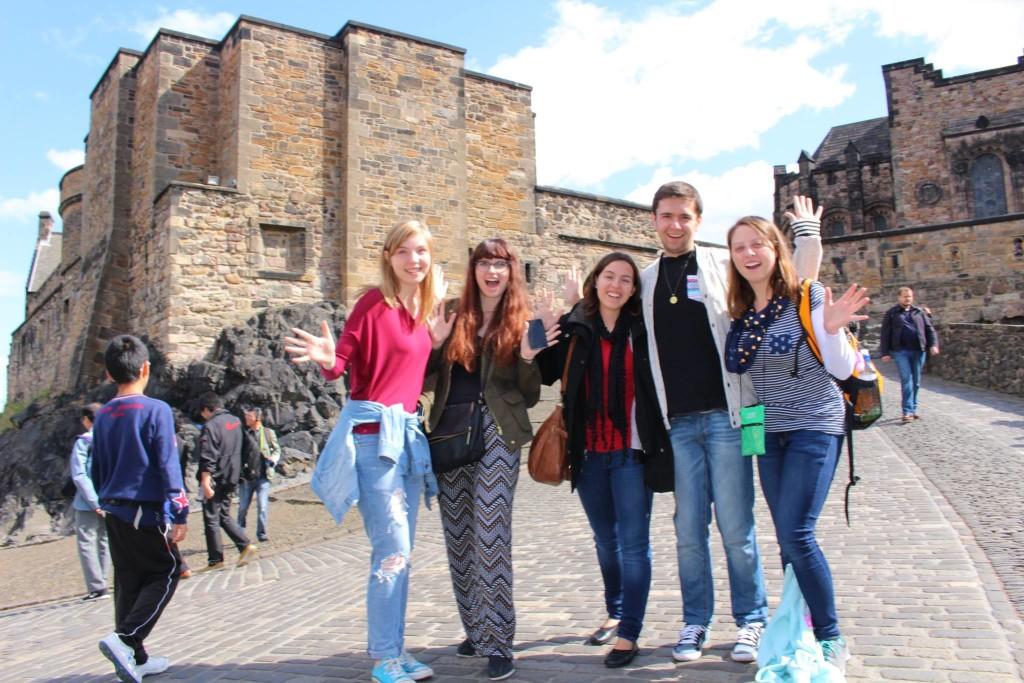 This first photo is from our first week abroad, and features a beautiful view of tourists and Edinburgh Castle-the MOST HAUNTED CASTLE in the world. Unfortunately, we did not come across any ghosts. The castle did have a lot of awesome views and damp dungeons, though!
Left to Right: Anna, Haley, Bryn, John and I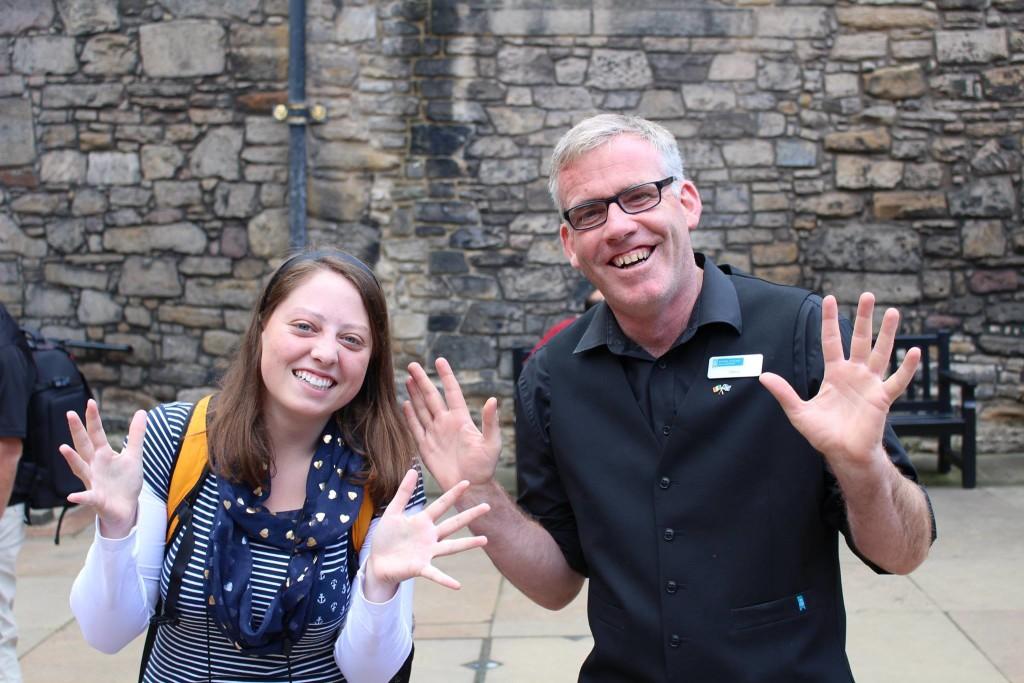 This next photo features our Edinburgh Castle Tour Guide…I think his name was Patrick. He was the greatest castle tour guide I've ever had! He was super rad, and was extremely eager to have this photo taken! His Jazz Hands technique could use a tiny bit of work, but he was fabulous all the same!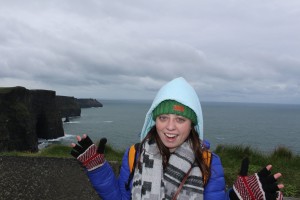 This lovely Jazz Hands photo was taken at the Cliffs of Moher, Ireland. You may know these Cliffs from Harry Potter and The Half Blood Prince (2009), and The Princess Bride (1987), and now they are featured in Jazz Hands Around The World!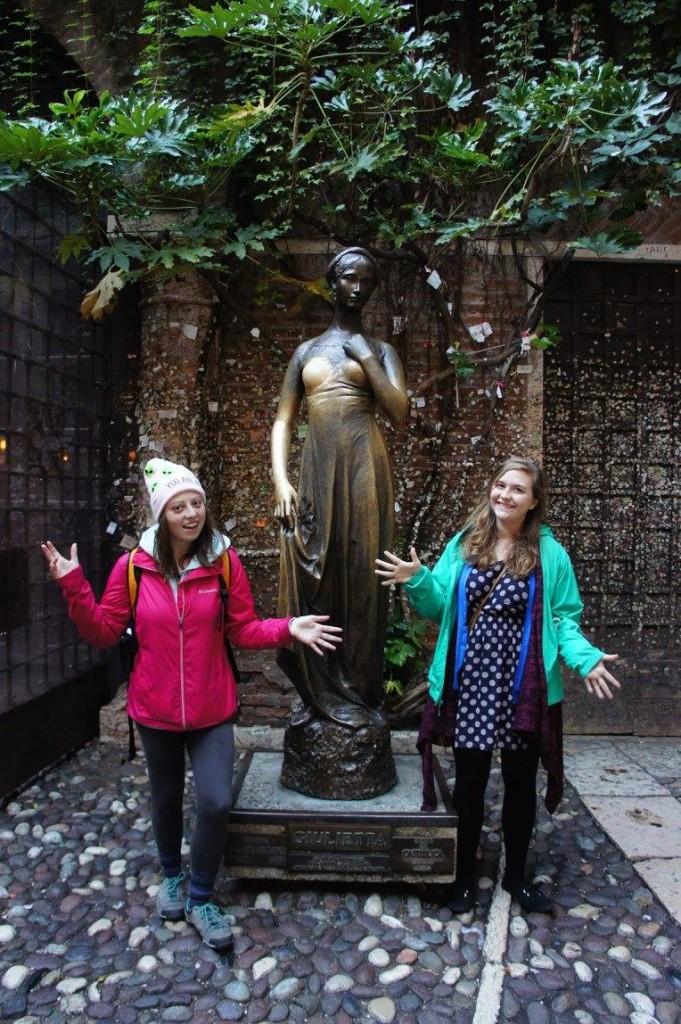 This lovely picture was taken under Juliet's Balcony in Verona, the setting for Shakespeare's Romeo and Juliet. Sarah and I had a lovely time taking in the commercialist tourist trap that Juliet's grotto has become. In the background you can see the love-locks and letters that people have written to Juliet posted on the brick wall. This tiny alleyway inspired the film Letters to Juliet (2010) (but the area looked a lot prettier in the film, tbh). This is the only Jazz Hands photo in the collection to feature a statue of a famed literary figure.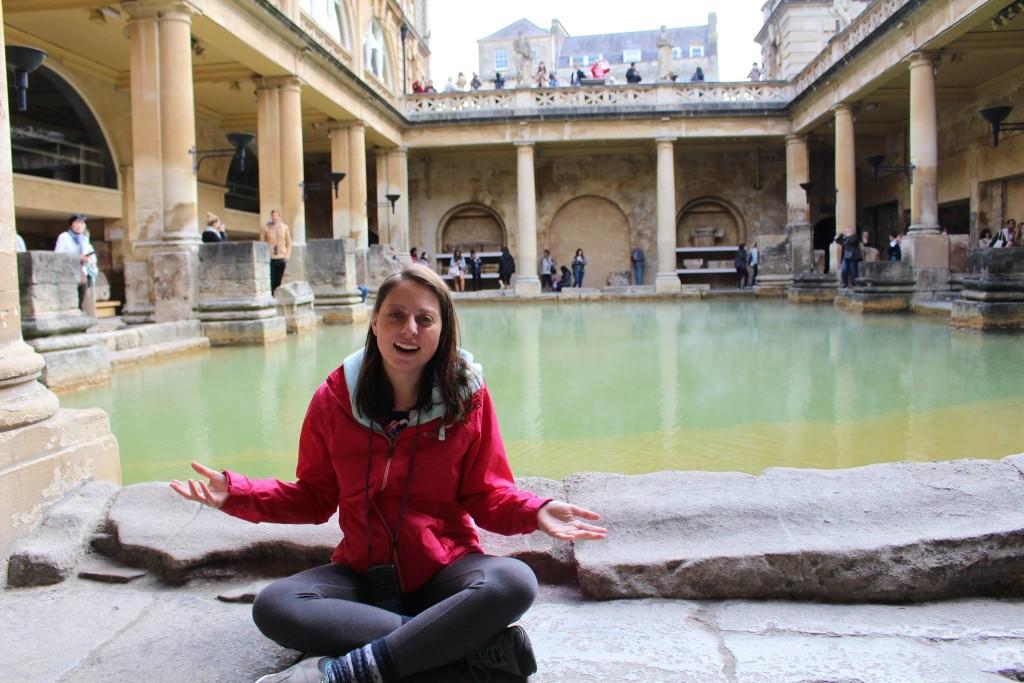 This next image is from Bath, England. It features a beautiful ancient green-algae-filled Roman Bath (we weren't allowed to touch the water for obvious reasons). The baths were beautiful, the audio guide was child-friendly, and the gift shop was amazingly fancy.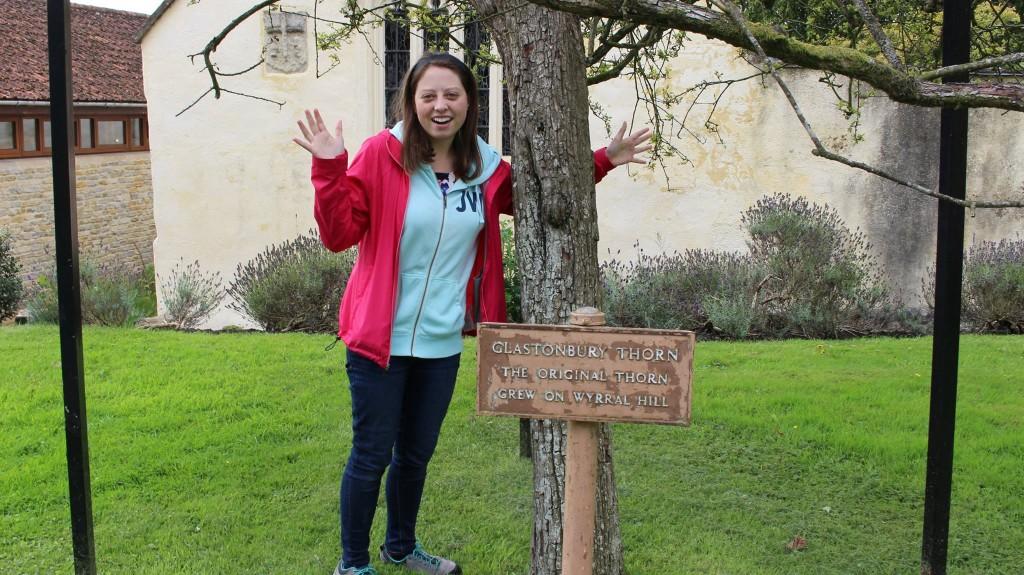 This is the first Jazz Hands photo to be taken with a tree! This groovy pic is with the Glastonbury Thorn, a legendary tree from the story of the Holy Grail. According to legend, the tree grew from Joseph of Arimathea's staff and emerged during the birth of Christianity in Britain. For more info about this Holy Tree, check out This Link.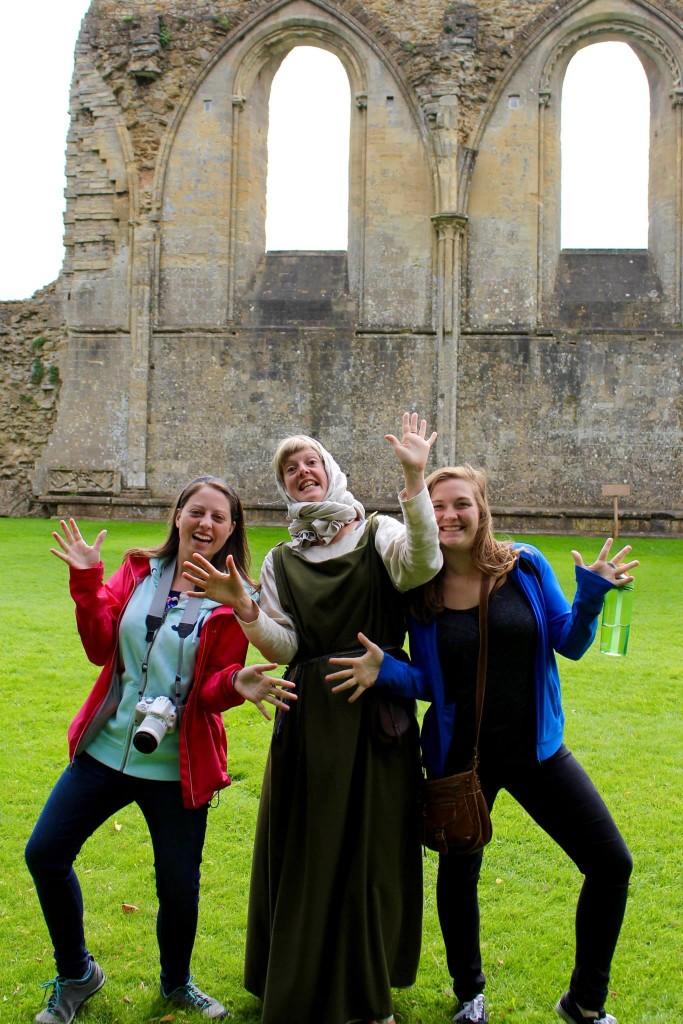 Whilst touring Glastonbury, Sarah and I snapped this amazing Jazz Hands pic with our Castle Ruins Tour Guide. She was definitely from King Arthur's time, as is evidenced by her elaborate state of dress, and is helping to hide the Holy Grail. She was super cool and knows everything about King Arthur and the Knights of the Round Table-what an amazing lady!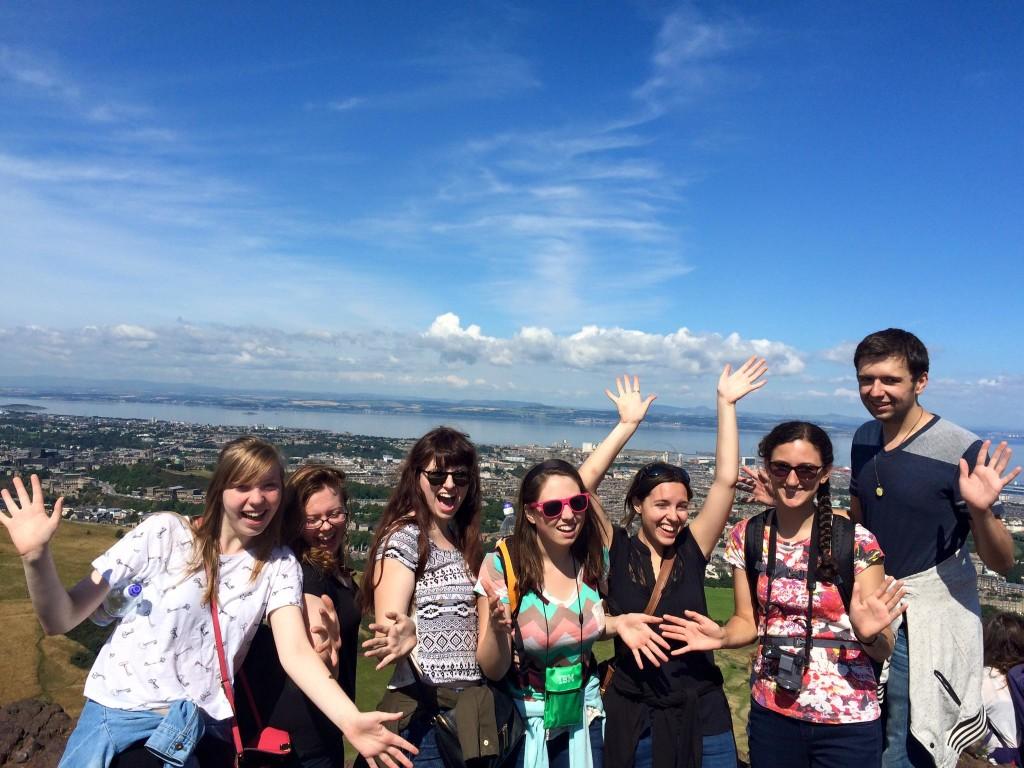 During our weeklong stay in Edinburgh, we climbed Arthur's Seat, the amazing 250.5 m high peak that looms over Edinburgh. The weather was awesome, the climb was tough, and our spirits soared!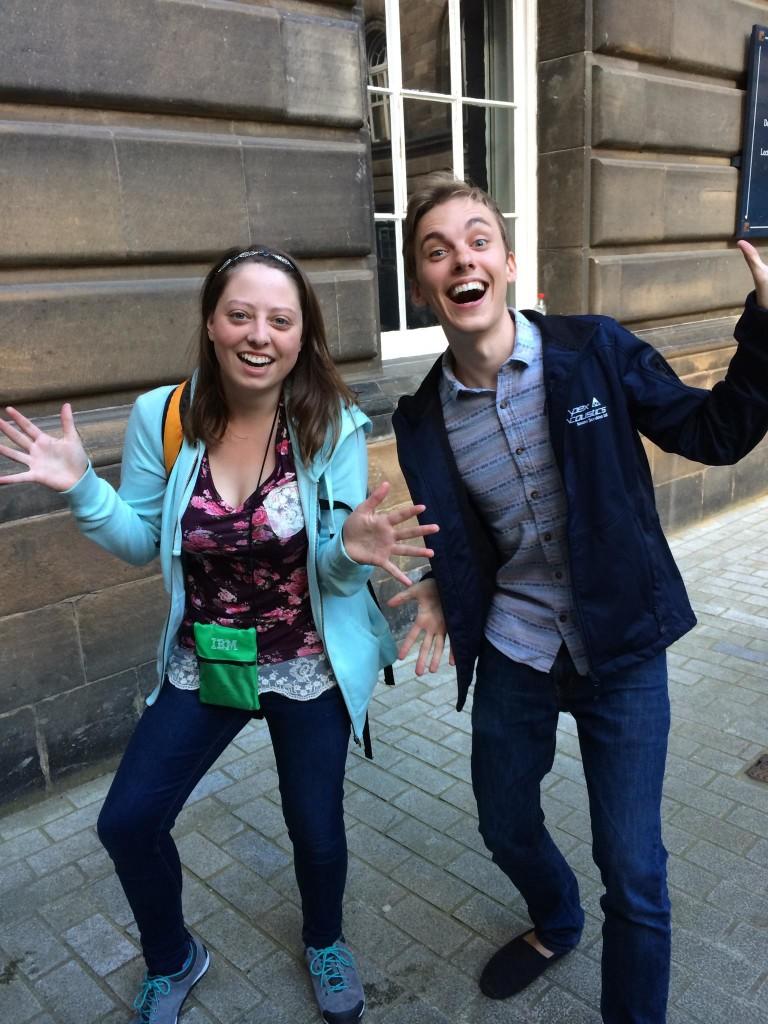 Probably one of the greatest images that was taken over the course of my trip. This is John Cozart, a Youtube personality whom you may recognize from his hits Harry Potter in 99 Seconds, and After Ever After! My friends and I got tickets to see Cozart perform at the Edinburgh Fringe Festival-an amazing Festival of the arts that takes over the whole city of Edinburgh for the entirety of August. John Cozart was super talented, and a bit taken aback by my request for a Jazz Hands photo. Despite this, his Jazz Hands attempt was super-enthusiastic and definitely successful! We ran into John again at the Fringe Fest, and a second time back in London when Anna was at the Globe Theatre (he remembered her! There were hugs!).
Also, the encounter was so awkwardly hilarious, it became a meme amongst my friend group: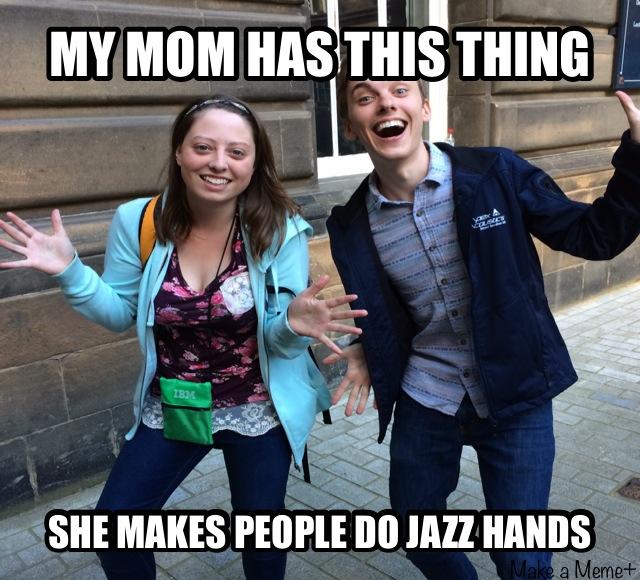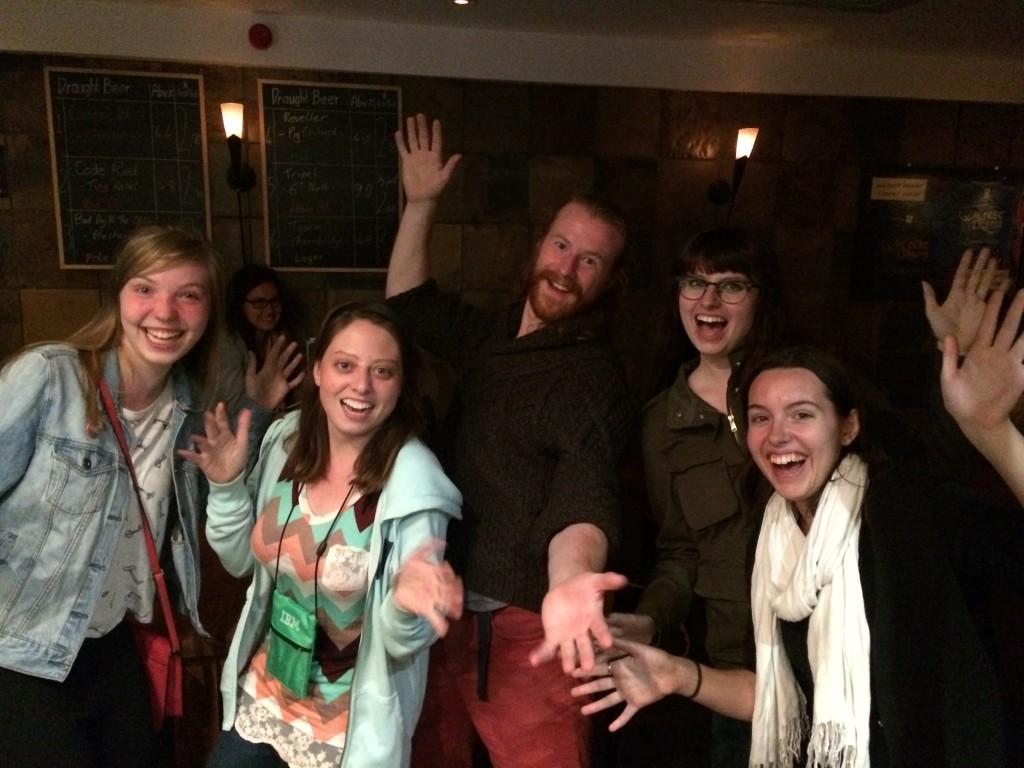 This next gem was also from Edinburgh. This is our lovely, beautiful Scottish tour guide for the mythical magical spook tour of Edinburgh. This tour took place late at night and took us to amazing spooky graveyards and monuments. Our tour guide was so amazing and knowledgeable, and took us out to his favorite whiskey bar afterwards to hang. This picture also features my short-lived fashion accessory that Anna dubbed "The Neck Sack."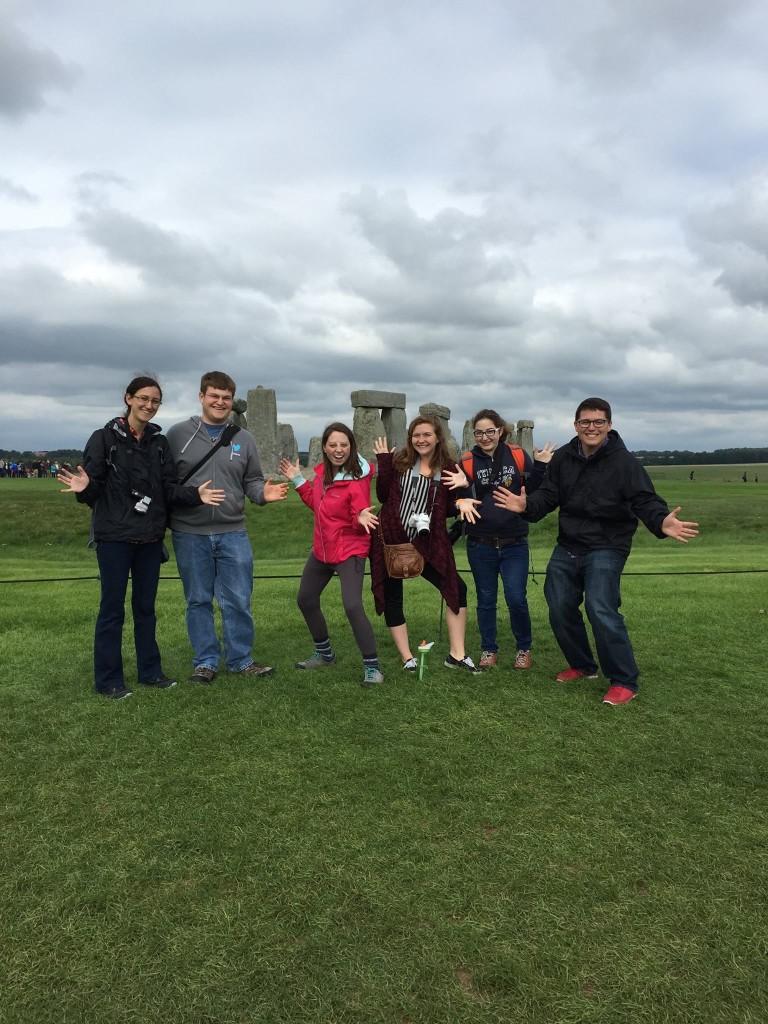 This last Jazz Hands picture is perhaps one of the greatest of all-it was shot in front of Stone Henge and features most of my flatmates and our friend Sam! If you look really carefully, you can see the black rope (it's knee-level in the pic) that prevents us from getting within 60 feet of the Stones. They really didn't want anyone touching the mysterious structure, and so we just milled around and took photos at odd angles to make it look like we were actually touching it. We also yelled "illuminati Confirmed!" several times and speculated on the existence of alien life forms in Ancient England.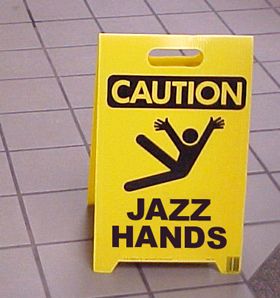 Thanks for reading! I encourage you all to go and take international and local Jazz Hands photos, and to share your jazziness with the world! 😀