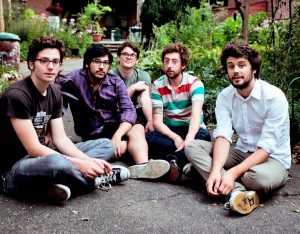 Just doing a quick post because I'm really excited. I hope you guys have dancing shoes. If you don't, I urge you to pick some up. Why? Because electro-masterminds Passion Pit are coming to town! On November 5th, the awesomely shrill vocals of Michael Angelakos will reverberate through Cornell's Barton Hall.
I last saw Passion Pit back in the summer of 2009 at a free show put on by WFNX and The Boston Phoenix (I interned for them this summer). The lineup was incredible: Ra Ra Riot, Gaslight Anthem, The Bravery, The Airborne Toxic Event, Metric and of course Passion Pit. I didn't really listen to that much Passion Pit back then, but they were on my radar.
They definitely came to play for their hometown crowd. The set was packed with energy and Angelakos danced around the stage while swinging his microphone by the cord. I remember there were a ton of beach balls being thrown around and it was crazy. After all the fun I had at that show, Passion Pit made their way onto my iPod and racked up a significant play count.
I was a little beside myself when I saw that they were coming to Ithaca in November. So, if you go, keep and eye out for me! I'll be the lunatic near the front.