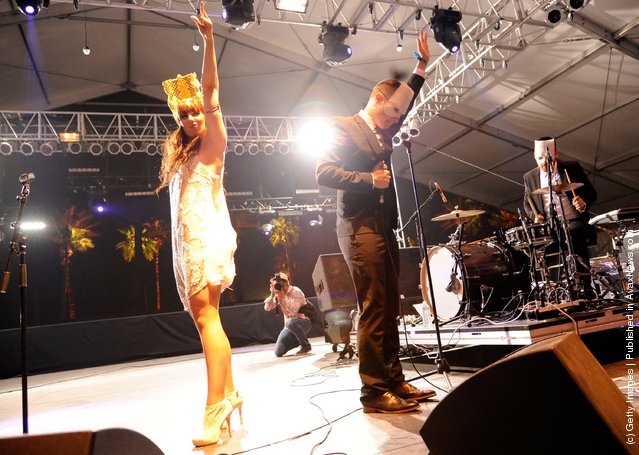 In between running all around Ithaca last weekend, I did have time to catch a few snippets of the Coachella Music Festival that was being broadcast on YouTube. For those of us that couldn't make it to California, we sat back and watched as one of the greatest lineups in recent North American music festival history played out in front of us. How they ever got Kanye West, Arcade Fire, The Strokes, Kings of Leon, Interpol, Cut Copy and many others for one festival, is beyond me.
Surprisingly though, the bands that I love weren't the ones that impressed me. Sure, it was nice (and a bit shocking) to hear Kings of Leon break out some old songs, but the real wow factors came from bands I've never heard of…such as Monarchy.
I'm going to be completely honest. I tuned in for Kings of Leon's set and watched it for a little while. But then I noticed this other band playing on one of the other two channels. They were wearing these weird white masks and I decided to see what was up. A full-fledged dance party is what was up.
A group of incognito dapper gentlemen were busting out beats like nobody's business and the crowd was eating it up. Turns out the synth-poppers who looked like they were abducted on their way to a masquerade ball were a British group called Monarchy.
The group had some quirky synthesizer effects going on which were laid over infectious dance beats. And the audience had been contaminated. Hands were up and glow necklaces were shimmering. I completely forgot about Kings of Leon's set and just sat there and watched them for the entire time. I'm glad I did.
If you're in the mood to dance, check out Monarchy playing two of my favorite songs, "Love Get Out of My Way" and "Crazy," at Coachella.