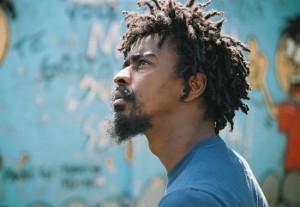 While you might know him as the guy who did the David Bowie covers for Wes Anderson's The Life Aquatic, God knows why you would. In any case Seu Jorge and his band Almaz have put out something far afield from Portuguese acoustic renditions of "Starman." Jorge's latest release is more like punk rock on the base of latin funk or retro-Brazilian pop music, or groovy DIY garage rock or…
He opens the set with the indelibly funky "Errare Hummane Est" (translates as "to err is human," common sense tells me), whose proto-Western guitar riffs would make it perfect bait for a Tarantino movie, if Tarantino wasn't such a punk. On the next track, Jorge amps up the misogyny; the sleaziness of the lyrics, the crude vocals and the reverb-basted guitar makes for an improbably perfect homage to the women in magazines and the men that stare at them. By the time you get to "Everybody Loves the Sunshine" it's hard to tell if Jorge is just too cool or if he's transformed the whole song into a tone poem, in which the simple joys of the song "sunshine", "bees and things and flowers" are transformed into frightening, irrelevant gestures. There's an urgency to Jorge's interpretation, something dangerous about it. It grooves, easy and taut all at the same time.
There are other highlights, like the fuzz guitar solo on Saudosa Bahia or the Tinariwen-esque Cirandar. The only misstep is Jorge's atmospheric treatment of Michael Jackson's "Rock With You." "Girl, You Move Me" is simply fantastic.  As he veers between something like a laid-back Iggy Pop, to straight ahead '70s  rock, to Brazilian Popular Music in the style of Gal Costa or Os Mutantes, Jorge creates an astonishing palette, after all, only a real s.o.b. would have the audacity to mix something so edgy and funky and modern like it was a garage band playing surf rock. The eccentricity of the mix and the Portuguese make it tempting to put Jorge in the World Music section and leave it at that. And to some degree Seu Jorge's latest fits into the Brazilian music scene with Costa and others, but to say that would miss the point, just as it would be inappropriate to call him a surf rock revivalist. Jorge's work hints beyond the usual interpretation of genre with strict boundaries and geopolitical segregation. We already know he listens to David Bowie with more than a casual ear, and we might guess at some of his other preferences with this release. It would be wrong, in turn, to think of Seu Jorge as picking up on American and British music within his own idiom in the Brazilian scene. He suggests, on the contrary, that audio waves escape the borders of genre. Music and style grow from the ear and not within the confines of time or geography.
But regardless of all that, the important thing to remember about Seu Jorge's latest is that it rocks.
While you might know him as the guy who did the David Bowie covers for Wes Anderson's The Life Aquatic, God knows why you would. In any case Seu Jorge and his band Almaz have put out something far afield from Portuguese acoustic renditions of "Starman." Jorge's latest release is more like punk rock on