Before agreeing to write this blog at all, I promised myself that I wouldn't spend my words on petty self-meditation. Instead, I decided I would write about beer. In Prague. In my stomach.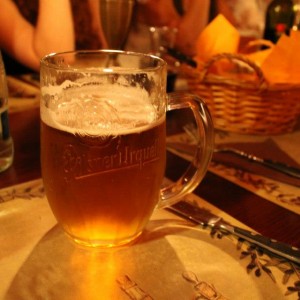 Now, I can't guarantee that my thoughts on/about/with beer will be interesting to you, but my hunch is they will be more interesting than my thoughts about life. After all, the Czech Republic and I both share a special relationship with beer.  My host mother Martina calls it pivo and pohoda. Beer and peace.
It's a fitting motto for a country with the highest national beer consumption per capita — a title it's held for 18 years and counting. The United States typically ranks somewhere in the early teens. Evidently the Czechs far outpace even our thirstiest fraternities.
The key seems to be a steady appetite for beer that doesn't give much credence to binge drinking. Beer is simply part of Czech culture. I've gotten the impression there's not much concern with open containers, or even public drunkenness. You can catch the Czechs taking part as early 9 a.m. outside bakeries and see them emptying unconcealed 24 oz. cans of Pilsner Urquell in Old Town Square mid-afternoon.  Hell, beer is sold right alongside the candy bars and newsweeklies at metro stations.
Then there's the size of the thick glass beer mugs in pubs and at restaurants. They must equal about two pints at Bandwagon, spilling over with a thick layer of foam. And thanks to a generous conversion rate — the Czech Republic has yet to adopt the euro — you will pay about half the price.  It's made Prague a favorite destination for British bachelor parties, who knock back pilsner like Olympic champions then predictably end up singing and skipping down narrow cobblestone streets, waking up the locals.
I hope to be a bit more dignified in my beer consumption during my time in Prague, but dignified or not … I'll sing the praises of beer here where I won't keep anybody but myself from sleep.