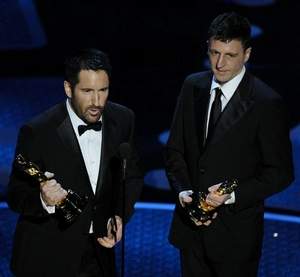 Just one month after snagging a Golden Globe for Best Original Score for his soundtrack to The Social Network, Trent Reznor picked up some more hardware last night at the Oscars. The Nine Inch Nails frontman continued to capitalize on his chilling masterpiece and collected the Oscar for the same category.
If you really want to have some fun, walk around campus at two in the morning while listening to the soundtrack. It gets pretty creepy…and awesome.
Anyway, Trent must have been feeling good because he gave us an update on his side project, How to Destroy Angels, that he formed with his wife. While they already have a self-titled EP out, Reznor revealed that new material will be available for free download in early fall.
I'm pretty psyched. Check out How to Destroy Angels' simmering spine-tingler, "A Drowning," below.