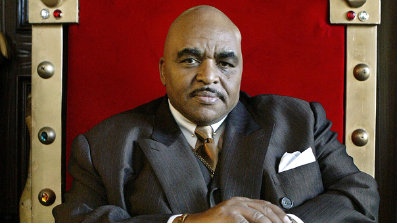 Soul legend Solomon Burke died Sunday at the age of 70. The King of Soul (official title) had career in the music business. Recording a string of hits Atlantic in the '60s early in his career, Burke left the label and came out with a number of albums throughout the 70s and 80s. During that time he also practiced as a mortician and sired 21 children. In the 2000s he came out with Don't Give up on Me, and enjoyed a comeback in the blues and soul world. He's been recorded by Otis Redding, Sam Cooke, the Rolling Stones and every other garage rock band ever created.
Although you should definitely pick up a collection of his early singles, Burke's late career work is equally rewarding. My personal favorite is a live album cut in the 80s with Marc Ribot on guitar, find it on vinyl. As he said there, "I don't want not flowers for me in heaven, I want my flowers in this world."
I'll be giving you a couple tracks this week to get you started. Here is "Please Don't Give up on Me."
Soul King Solomon Burke died Sunday. The world is a poorer place.