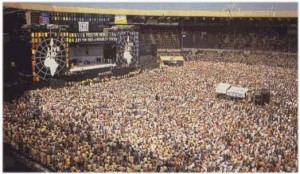 This July will mark the 26th Anniversary of Live Aid, the blowout musical event held at both Wembley Stadium in London and John F. Kennedy Stadium in Philadelphia that helped raise money to combat the Ethiopian famine. Now, the spirit of charity and assistance continues to make itself known.
It seems as though whenever a natural disaster occurs, recording artists are the first to step up and help out in some way. And why shouldn't they? As groups tour they visit different areas of the world and connect with their fans. It doesn't surprise me that they want to help.
It has recently been confirmed that a Live Aid-esqu event will be taking place once again at Wembley Stadium come April for a Japan earthquake/tsunami benefit. Names and headliners have yet to be dropped, but the event is currently being billed as a "supergig," so I'd be expecting some heavy hitters.
My initial speculation is that Coldplay will be there. The band is not currently touring and they have a history of charitable activism. And of course you can't have activism without Bono. However, U2 is touring in South America at the beginning of April. But I'm sure Bono & Co. could fly back to London after they finish up down there. If U2 makes the trip back to the British Isles, Muse may not be too far behind. The band is currently opening for U2 on their Argentine and Chilean dates. All three of these acts have headlined Wembley previously and have proven that they can fill the 82,000 capacity stadium.
The show is set to be broadcast in the UK on BBC and in the U.S. on a yet to be announced network.