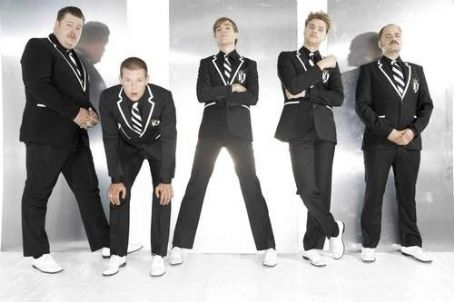 I feel as though people sometimes forget music is made in Scandinavia. Most of the focus remains fixed on the United States and Britain. While I am a self-proclaimed Anglophile as far as music is concerned, Scandinavian artists are making some incredible music right now. Here's a quick list comprised of my favorite Nordic acts. Click the links after each band to experience their sound.
The Hives (Sweden) — I can't say enough good things about The Hives. Their in-your-face punk-rock is sure to get even the tamest music fan moving. And they've got some serious style that usually comes in the form of black and white tuxedos. The band will be playing Coachella this year and I am praying for some East Coast tour action.
Blue Foundation (Denmark) — You may have heard of Blue Foundation and not even know it. If you're a Twilight fan, you may recognize their song "Eyes On Fire" from the first movie. While I'm not a fan of the series, the movies do have quality soundtracks. Blue Foundation combines airy vocals and driving rock to create an enticing auditory treat.
Robyn (Sweden) — Pop princess Robyn has been around for a while. In fact, she's been making music for nearly a decade. She was recently featured on Saturday Night Live as a musical guest. Her music is straight pop and incorporates electronic elements to give the tracks a heavy dance vibe.
The Radio Dept. (Sweden) — I first heard of The Radio Dept. when one of my co-workers played the Marie Antoinette soundtrack at work. Three of their songs, "Keen On Boys," "I Don't Like It Like This" and "Pulling Our Weight" are featured on the compilation. The band's sound is spacious and breezy with softer instrumentals. Most of its charm comes from the lo-fi feel of their discography.
Nephew (Denmark) — I discovered Nephew through their mashup of Timbaland's "The Way I Are." That was my jam back around senior year of high school. I decided to dig into their discography a bit more and I liked what I heard. Their songs are pretty heavy and they manage to mix in electro elements with some harder rock.