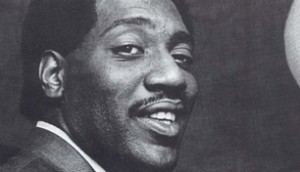 "Tennessee Waltz" may not have been  written by Otis Redding, but he manages to rend from every word, I would even say every syllable, something that wasn't there before. It takes only a few details brushed deftly through the song and the whole scene is there for you, from the club and the dance floor to the narrator watching it all. There is something beautiful in the way Redding plays with us, his faltering "I didn't expect to see him," a line you might hear spoken but never expect sung, all the way down to the cursing climax "Cotton-picking," a stronger remark than you might think at first glance. But the best part is the refrain, where Otis cries "I remember," a bright spark that flashes briefly for the narrator lost in grief and memory. It is a night that you replay over and over in your head, every detail, left with yourself to blame. It is the song of a man muttering to himself.
You can find it on the Complete & Unbelievable: Otis Redding Dictionary of Soul. The only shame is that it's not even the best track on the album in its field of grief and longing. If you pick it up (more likely download it), check out "You're Still My Baby," again a song built for the long climax. Starting from a vague lover's plea, "I'll always love you" type deal, the song builds to a full stop – "Somebody help me. My Heart is in pain" – Otis shouts. And then begins this litany "No matter where you go, no matter where I see you, no matter what wrong you do, no matter how big you get, no matter what rough road you take…" the song fades and he's reduced to a stutter. You realize he isn't talking about a lover, he's talking about a daughter.
I hope you have a beautiful night.