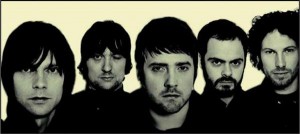 At long last, Brit rockers Kaiser Chiefs have released their latest album, Start the Revolution Without Me, in the United States. The LP, originally called The Future Is Medieval, has been available for purchase in the United Kingdom since June of 2011.
Back in June, the band shook-up the traditional sequence of album releases by allowing fans to select 10 songs from a list of 20 and build their own album. Fans were then allowed to sell their version of the album and make a profit of £1.
"Can't Mind My Own Business," one of Start the Revolution Without Me's standout tracks, stays in line with the traditional Kaiser Chiefs aesthetic: energized rock with the slightest edge of power punk.