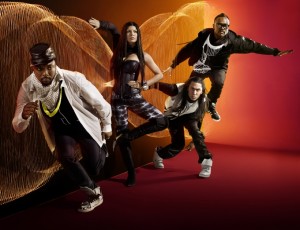 Rumor has it the once reputable rap megastars the Black Eyed Peas may be opting for a permanent split instead of the "indefinite hiatus." That collective gasp you just heard was thousands of middle school dance DJs realizing half of their playlist is suddenly an antique.
The group was slated to perform at a Michael Jackson tribute show this weekend, but they have abandoned their slot. This is quite odd seeing they basically bring up MJ in just about every song, performance or interview. So things must be less than cozy if they decided to pull out of this event.
Now, I used to like the Black Eyed Peas. "Elephunk" and "Monkey Business" are where it's at. But after they dropped the whole name-our-albums-after-animals gimmick, it went downhill. We had "I Gotta Feeling" which was great for 2009. I was graduating, everyone was happy and things were good. But after that, any time I heard the song, I felt the urge to kick whatever piece of audio equipment it was blaring from. And let's not forget "Boom Boom Pow." I'm not sure who was "jackin'" their style, but half the time I don't know what they're wearing and I feel as though I could suffer an injury.
And then we had "The Beginning." But it probably should have concluded before things even got this far. Let's take mildly good '80s songs, manipulate the beats and then regurgitate it. "The Time (Dirty Bit)" is just annoying. Usually I'd be thrilled to buy an album with 15 songs on it. No one puts out an LP that long these days. But of course you either get quantity or quality.
So here's how I think things will shake out. Fergie will put out another so-so album and live happily ever after with Josh Duhamel. will.i.am will go on to produce this U2 album which is supposedly in the works. This will completely shatter the image of U2, fans will be distraught and even more music will die as a result of the BEP split. Taboo and apl.de.ap will host their own show called "Our Time."