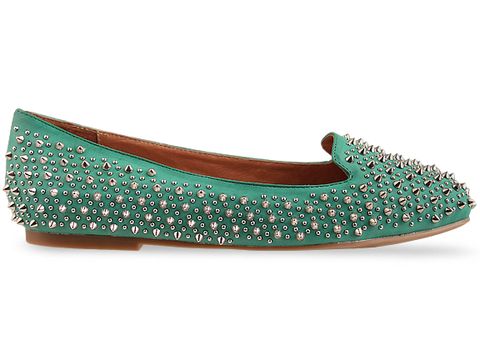 Studs have been making appearances on clothing and accessories this spring. Formerly associated with punk rockers, studs are being used at brands like Valentino and Givenchy to give an edge to otherwise ladylike looks. With the slew of dainty pastel shades, eyelet and lace fabrics and feminine silhouettes trending this spring, using studs as an accent is the perfect way to temper the potentially overwhelming preciousness.
The important factor is striking a balance between studded and sweet. A leather jacket with stud accents can give off biker chick vibes worn by itself, but when juxtaposed with a sweet collared dress in a sorbet tint, it's sweet and sassy – the best of both worlds.
The easiest way to wear this trend is to accessorize. A classic handbag when trimmed with studs is cheeky, not frumpy. Jewelry with studs (think witty reinterpretations, like dainty bracelets and rings, not necessarily the heavy black leather wristlets of your tween Avril Lavigne days) are an easy and subtle way to incorporate the trend into your day to day outfits.
However, the most striking way to wear studs this spring is on your shoes! Girly ballet flats toughen up with a sprinkling of studs and heels, like the ubiquitous Sam Edelman pumps with studded heels keep things playful, even with the most simple of clothes. If you really want to rock this trend, try a pair of studded loafers. Loafers are the latest retro resurgence for shoes this spring. With a nod to menswear, they can be reminiscent of Michael Jackson's "Off the Wall" days, Hugh Hefner's velvet house slippers or classic prepster style. Try them in a bright white or basic black for the perfect pair of statement shoes to take you from day to night.