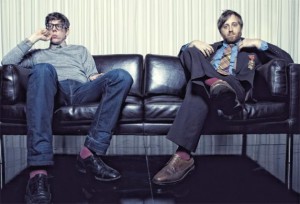 A few weeks ago, I wrote about how Foo Fighters were going head to head with the Westboro Baptist Church and using a song from their racy tour announcement video as fodder. Well, blues-rock's funniest duo, The Black Keys, is here to step up the album announcement video category.
The Akron, Ohio boys were one of the biggest acts at this year's Grammy ceremony as they snagged several golden Victrolas for their album "Brothers." They also displayed some of their antics upon releasing a video for their song, "Howlin' for You." Even though it was a fake movie trailer, that didn't stop me from wishing it was an actual one. I was a big fan of Sir Todd Bridges' character.
For their latest album release, the guys enlisted Bob Odenkirk (Saul "Better Call Saul" Goodman from "Breaking Bad"). Apparently he is now typecast as a sleezy character because he plays a used car salesman trying to pass off a van as an El Camino in the band's album announcement video. No one would ever know this was an announcement video if it hadn't been for the very last second which explains what's really going on.
So if you're looking for a van, you may want to check this out. Or, if you're a Black Keys fan, you may be interested to know that their new album, "El Camino," drops on December 6th.