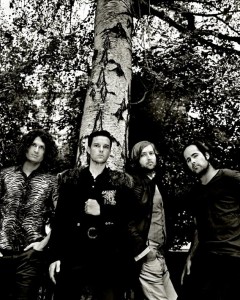 If you've ever spent more than five minutes with me, you know that my favorite band in the entire world is The Killers. To me, their music is perfection and not just lyrics with instruments, but a spiritual awakening. It's a truly magical experience when an artist can transcend their own wants and needs to write music that fulfills listeners.
Most people know The Killers for their catchy pop singles like "Somebody Told Me" and "Mr. Brightside." However, those two songs barely scratch the surface and don't do the band justice. How can a band be so spiritual while talking about boyfriends who look like girlfriends? In my mind, the true power of the band lies in their sophomore album, "Sam's Town."
Upon the release of "Sam's Town," just about everybody complained that the band had dropped their synthesizer foundation and therefore crumbled. I thought it was one of the greatest albums I'd ever heard and it was this album that made me a fanatic.
Each song feels like it's written for me and I can apply my life to each in some way or another. Most of the songs are permeated by Catholic undertones and themes that make the album feel less like a compilation of individual tracks and more like a work of musical religious art. The best part about music (for me at least) is the ability to relate to the music instead of feeling like you're on the outside looking in. This is probably why I don't gravitate towards most modern hip-hop or pop music. I haven't experienced riding in an expensive car with models surrounding me, but I have gone through periods where I've questioned my faith, confronted fears and dealt with insecurities.
And for that, I thank The Killers.