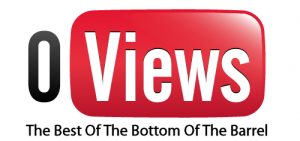 Ever had that realization that you were among the first people to see a video that blew up on the Internet? I know the feeling. Back before Lady Gaga was popular, I saw "Just Dance" and knew it would change the face of contemporary pop music.
I can also proudly say that I was one of the first 100 viewers of The Muppet's version of Queen's "Bohemian Rhapsody." Yeah, no joke. I saw it on the Muppets Studio Twitter feed and literally jumped at my screen in awe. (Please don't ask me why I follow the Muppets on Twitter). But my roommate just introduced me to "0 Views," a site that highlights similar undiscovered gems on YouTube. The hitch is that, for better or for worse, all these videos will probably remain undiscovered.
0 Views takes YouTube vids that have, you guessed it, 0 views and gives them some face time for the world to see. The site isn't too popular itself, so the videos on it will not get too popular. So part of me wants you to tell your friends about this website and part of me thinks you should keep it hush-hush in your close-knit circle. Either way, it's hilarious and deserves a gander or two … or seven.
We don't want to ruin the magic.