So, after my recent Instagram post I'm going to start this with a little clarification. I am not opposed to cell phone photography, I simply find that utilizing it in some ways is unnecessary. But, I believe in the right tool for the job and there are instances where an iPhone happens to be it. Onto the rest of the post.
A couple issues ago I was shooting for a story on a local screen printing business called The Ink Shop. On that shoot the designer and I felt that a wide shot of the entire workspace would be fitting top art. Well, being a Tuesday afternoon with less than a day to work meant speed was paramount. First, I took a series of shots with my SLR and prepared for a process of stitching a panorama together. But, then I realized the new feature iOS6 granted to iPhone users, panoramas.
I pulled out my phone and quickly moved across the scene. A bit of editing in the office led to a usable top image for a front story. Best tool for the job.
This was then followed last Thursday with an odd shoot. Driving back to campus with a fellow editor we saw a swarm of emergency vehicles downtown. I pulled out my phone and took a couple shots as we drove by.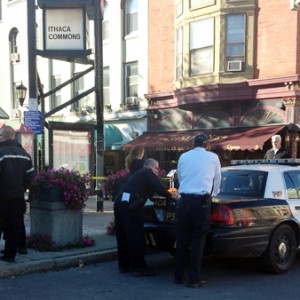 Once we were back on campus the phone calls began. We needed to get a photographer downtown for an investigation into a suspicious package. Fortunately, I already had a photo and we were able to put a story with art up online very quickly. The photograph and story even got picked up by a news station in Syracuse.
Cell phone photography is an incredible advancement in photo technology. We have a high quality camera in our pockets at all times. Use it when the need is there or the aesthetic is desired and serves a purpose. It is something to be utilized.