When I was in third or fourth grade, I got one of those little Polaroid kids' cameras called an iZone that printed out a photo the size of a negative right after you pressed the shutter button. I thought it was pretty rad — it was a transparent blue camera, reminiscent of one of the now-prehistoric-looking iMacs that people were well aquainted with ten years ago. It was roughly the size of a squared-out hot dog, and I wore it around my wrist because that was the cool thing to do.
Technology in miniature is always fascinating to me; I just think, "HOW DOES ALL THAT TECHNOLOGY FIT IN THERE?" The iPod Shuffle, for example, blew my mind when it first came out — that is until I realized it was useless because you couldn't choose which song you were going to play. You know, the whole "Shuffle" part. But anyway, back to cameras.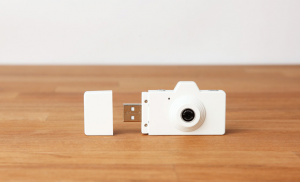 Perhaps, many years after the iZone's popularity plummeted to nonexistent, the mini camera will make its way back into popularity. For example, this Japanese product called the Clap Digital Camera looks cool to me — I can't tell if it's because Google Translate made the product description more fascinating in addition to changing the Japanese characters to warbled English, or if I just think it's cool because it's little and cute, or if it's actually awesome.
Regardless, it comes in your classic colors of black and white as well as pink. It looks incredibly convenient because it has a hidden USB connector and a microSD card slot, so you can take billions of pictures on the tiny thing (well, maybe not billions). Unfortunately, the website doesn't say how many megapixels it shoots. That could be a dealbreaker. I'm not paying for pictures that are equal to my iZone's in quality. As cool as they were, you kind of needed a magnifying glass to see them properly, and carrying a magnifying glass around with you kind of defeats the purpose of having a small, convenient camera. Unless you're one of those people who just carries a magnifying glass around with them…?
I hope this tiny camera thing becomes a trend, 'cause then I could put it on my keychain along with my mini thermometer and mini harmonica.