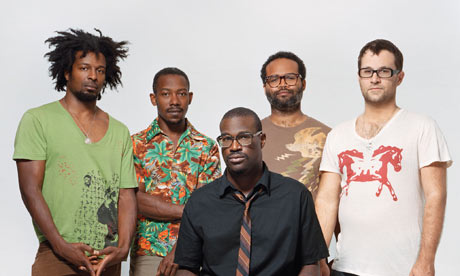 This year was shaping up to be a big one for rock band TV On the Radio: they have just returned from a three year hiatus and their new album, "Nine Types of Light," was released last week to favorable reviews. But it was announced today that bass player Gerard Smith passed away from lung cancer this morning. The following message was relayed to TVOTR fans via their website:
"We are very sad to announce the death of our beloved friend and bandmate, Gerard Smith, following a courageous fight against lung cancer. Gerard passed away the morning of April 20th, 2011. We will miss him terribly."
The news is relatively shocking as his diagnosis was just announced a little over a month ago. At that time, the band announced that he would not be performing on their upcoming tour. The band recently played Providence, Rhode Island's Brown University and Boston's House of Blues this weekend. For now, the band has cancelled five of their upcoming shows that include stops in Detroit, Chicago, Denver and back-to-back dates in Minneapolis.
Greg Kot, a Chicago Tribune music critic and blogger, revealed through Twitter that the Chicago date is in the process of being rescheduled and fans have the option to hold the tickets or obtain a refund. No word yet on the rescheduling of other dates or how this may or may not influence the rest of TVOTR's tour plans.
Keep a look out in next week's Ithacan print edition for my review of "Nine Types of Light."