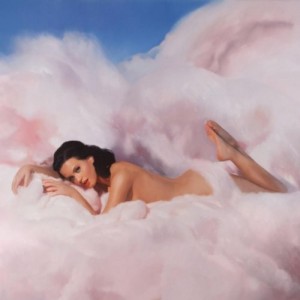 I started out the day not having Katy Perry's "Teenage Dream" and I ended the day by blasting it through my headphones after acquisition. Yes, it is true that I am not a pop fanatic, but KP is one of the few, if not only, pop stars I can actually get into and accept. Her songs are downright bubbly. I don't know how anyone will be able to resist the urge to belt out "Firework" as they're flying down the road this summer with the windows down.
"Firework," "Teenage Dream" and "California Gurls" dominate the radio. In fact, we used to leave the radio on a local pop station in the bank I work at over breaks and I used to keep a running tally of how many times "Firework" played. In case you're curious, in a nine-hour workday the number of plays ranged from 8-12. It got pretty sickening after a while which is disappointing because it's a good song.
I heard the whole album last weekend while in Boston's Newbury Comics. I was actually really pleased with what I heard with the exception of the obnoxious "Peacock." But the rest of the album is awesome. There's a nice and polished techno-ish sheen to it. Dare I say…candy-coated? It really is "bubblegum pop," and it's impossible to be mad when listening to Katy Perry.
She's about to launch an innovative tour this summer and people are pretty psyched. Why? The shows are going to smell like baked goods. She's pumping the scent of cookies into the arenas! This is sure to be a nice change from the usual smells: sweat and occasional marijuana. And of course the vomit from that one time a guy puked on my shoes at Paradise Rock Club…yeah I'll take the cookies.
Who knows? I don't have plans for June 18th yet. Might have to make a trip to the TD Garden to check her out. And Swedish pop princess Robyn is opening for her. That should be quite the treat.