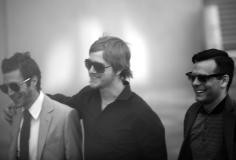 Saturday night I made one of my famous pilgrimages back to Boston for a concert. Most of my friends think I'm insane for driving 6 hours to see a band, but I see that as a justifiable excuse to visit my favorite city. The show featured gloom and doom gods Interpol as well as a band called School of Seven Bells I had never heard of before.
Before the show even started I was not in a good mood. The crowd was probably the worst I've ever seen at a concert: rude, obnoxious and of course drunk which usually leads to violence (no exception here). I tend to hold Boston audiences in high regard, but this bunch was disappointing.
Eventually School of Seven Bells took to the stage an hour after the scheduled start time. Brownie points weren't being won. This would all change once I fell in love with them. I have a thing for female vocals that I feel will never be satisfied. The lead singer's delicate voice over pounding drums and reverb guitars made the performance chilling and worth the wait.
Usually I don't buy opening bands' albums right after shows, but I was blown away. I was mildly disappointed though. All of the raw energy from the live performance disappeared from the studio version. The songs are still great, but not as transcendent and ethereal as when they were on stage. I suppose this is acceptable seeing most artists lose their dynamic components in live performances.
Interpol delivered the goods as usual and the entire band dressed for the occasion: suits and semi-casual dress shirts. These guys are known for having style and it was nice to see them looking fresh and ready to rock again. The set was solid and heavy on my favorite album of theirs, "Antics." The lead singer, Paul Banks, was gracious as usual. That's always nice to see.
Unfortunately, the already sub-par crowd was not as appreciative. The cheers for an encore were the weakest I've heard and if I were the band I might not have come back out. They did return and finished the setlist strong and confident.
I'd have to give the entire show a 2 out of 5, but the majority of the deduction was thanks to "Willhelm" and his girlfriend of 5 minutes getting it on right behind us. Naturally, the heavy drinking and tempers led to punches being thrown. Another demerit. I felt sorry for Paul and the guys, but hopefully they know that most of us enjoyed what they brought to the stage. Cheers, gentlemen.