Buffalo Street Books, a cooperative bookstore in Ithaca, has announced plans to remain open after receiving $50,000 from the local community that will grant the store an opportunity to identify long-term solutions to financial hardships.
During an emergency owners' meeting held on Oct. 12, owners in attendance pledged a total of $50,000. The community donations will allow the store to remain open while it identifies long-term solutions, but they do not entirely cover the $75,000 worth of financial need identified by Rob Vanderlan, president of Buffalo Street Books Board of Directors.
This financial need consisted of the money Buffalo Street Books owed publishers, and was the required amount the store needed to be taken off hold with all the publishers so that it could continue to order books. The establishment did not have the ability to order new books from publishers with whom they had an outstanding debt. The newly acquired funds will go toward paying off these debts.
During this meeting, owners were asked to contribute time or money to Buffalo Street Books, Vanderlan said. One hundred and 18 owners filled out cards describing what they could offer the establishment.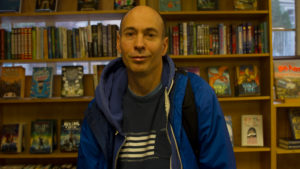 Buffalo Street Books customer Leo Vincent talks about his relationship with the store.
As a result of Buffalo Street Books becoming a cooperative establishment in 2011, community members have had the chance to become owners by purchasing $250 shares. Benefits of becoming an owner include the ability to vote and run for the Buffalo Street Books executive board, as well as the opportunity to vote on policy-level changes. Owners also may receive a fraction of the store's annual profits based on the individual's contributions during the year and access to special offers and events.
Buffalo Street Books first became a cooperative bookstore as a means of remaining open in 2011 when struggling with a lack of funds. This new status managed to raise the store over $250,000 between 2011 and now, Vanderlan said.
Chris Holmes, associate professor in the Department of English at Ithaca College and member of the Buffalo Street Books executive board, said there are long–term solutions currently being discussed, which range from becoming a nonprofit organization to offering book subscriptions or trying to further increase online sales.
One major factor of Buffalo Street Books' return to financial hardship after this contribution in 2011 was the rise of major online book vendors, such as Amazon. The ability of these sites to provide books quicker and often at lower prices has affected the sales of independent bookstores on a national scale, Holmes said.
This cooperative aspect of Buffalo Street Books, which has resulted in hundreds of Ithaca community members being partial owners of the store, is a crucial aspect of the store's long- term survival, Vanderlan said.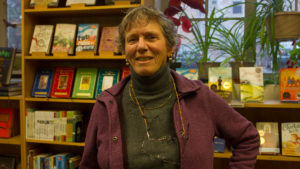 Customer Lois Levitan talks about what makes Buffalo Street Books so important.
"Not only do we have a lot of people who care passionately about keeping the bookstore in Ithaca, but we just have a lot of gifted, talented, connected people who are owners and who are entirely willing to help the store survive and prosper," Vanderlan said.
To complicate Buffalo Street Books' situation, Woody Chichester, the former general manager of the store, resigned on Oct. 19. Chichester started as a bookseller in 2013, a job which entails ordering stock from major publishers and curating the selection in the store. But Chichester's predecessor left and the board asked her to step up, and after some hesitation, she accepted the job.
"I initially said no because to me, that job just meant financials and not being able to buy anymore," she said. "But after talking to one of the board members, I changed my mind because I thought the best thing for the store would be for someone who knew the store to take over, so I did. And they said, 'You'll still be able to buy and do this and do this,' and that was sadly not the case."
Assistant manager Audrey Demillo will take over, at least temporarily, until the board can find a full replacement.
Buffalo Street Books also had a program in cooperation with Ithaca College and Cornell University called First Class. Professors would contact Buffalo Street Books with the required books for their courses, and the bookstore then provided students with the platform to order the books online without tax. Employees of the store would later deliver them to the classroom of the course.
Holmes said although this program was offered for the fall semester, it has been officially suspended and will not be available for the spring semester, but may be reinstated in the future.
"The hope is that once our financial circumstances are leveled and we're back to our more rooted and strongly sustainable model, then we'll bring back First Class," Holmes said. "It's an expensive program to run because of the labor hours and things like that."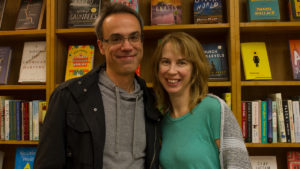 Couple Nell Stanton and Peter Wittich discuss why they come to Buffalo Street Books.
Nancy Menning, lecturer in environmental studies and science at Ithaca College, said she ordered required course textbooks through this program and encouraged her students to purchase the textbooks on the Buffalo Street Books website.
Menning said that despite the opportunities for patronage provided by this program, the survival of Buffalo Street Books will rely heavily on the engagement of individuals with the establishment, rather than any action taken by the college.
"IC has an obligation to the local community generally, as any entity has a responsibility to its local place," Menning said in an email. "But this is not an obligation that is going to be met by the college as an institution. Rather, it will be met by individual members of the community — faculty, staff, and students — supporting local businesses, including BSB, because it strengthens the Ithaca area community."
Students who shop at and attend events hosted by Buffalo Street Books also play a role in the store's survival, Vanderlan said. He also said the presence of a local community bookstore can be especially helpful for those majoring in English or writing.
"It's helpful to have a place in the community where they can interact with local writers, come to events, see what that world is like," Vanderlan said.
Sophomore writing major Margaret McKinnis showed her support at the emergency owners' meeting with a few other students from the college.
"I felt that it showed how you mobilized community. There was such an energy to save the place," McKinnis said. "It was really cool to be there with a couple other students and really thinking about how could Ithaca College help Buffalo Street Books."
Holmes said an increased interest from the student body would help the college strengthen its relationship with Buffalo Street Books. Holmes said many students may not be aware of the establishment's existence, especially as freshmen or sophomores, but could potentially be introduced by older students committed to promoting local independent bookstores.
Leann Kanda, associate professor and chair of the Department of Biology and a member of the Buffalo Street Books executive board, said she does not feel that there is any strong connection between the store and non-English related departments of the college. Kanda said she hopes this changes in the future as students discover the community-driven nature of Buffalo Street Books.
"There's that feel that you get going into a small local store," Kanda said. "People know you, and you go in, and there's that intimacy that is very welcoming."