Staff Writers Aidan Lentz and Colin Tessier read a few of the latest comic releases, here's what they thought of them.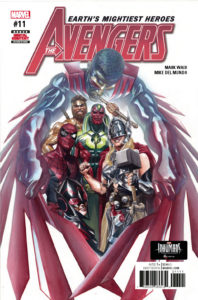 Avengers #11:
Written by Mark Waid
Drawn by Mike Del Mundo
It's time for the Avengers to regroup. Following the events of "Secret Empire," the Avengers have lost their headquarters. Left without a home, the six members split off and try to work out their futures. Sam Wilson offers his leadership position to Thor, Spider-Man tries to get Wasp to like him and Vision asks Hercules about the nature of immortality.
By focusing on character dynamics over high–stakes action, Mark Waid has delivered his best issue of the Avengers to date. The conversations, while occasionally clichéd, are authentic and engaging. An issue like this could've easily been drab to look at. Luckily, Mike Del Mundo is here to deliver some of the best art of the week. The characters are expressive and the world gives off a Pixar-esque sense of wonder.
This issue is an excellent jumping-on point for new readers. It isn't bogged down by continuity and gives a clear sense of who these Avengers are.
Stars: 4/5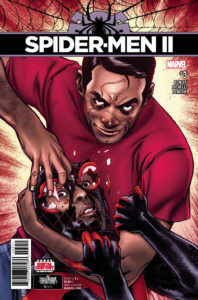 Spider-Men II #3:
Written by Brian Michael Bendis
Drawn by Sara Pichelli
"Spider-Men II" is the follow–up to the 2012 crossover that asks the question, "Who is the original Miles Morales of the main Marvel universe?"
This issue focuses entirely on the rise of Wilson Fisk and Morales both as partners and friends. In doing so, Brian Michael Bendis has crafted easily the most compelling issue of this miniseries so far. Part of the appeal of this issue is the fact that it doesn't require any context for what happened in the last two issues of "Spider-Men II." This makes it well worth a read for anyone curious about the Kingpin's backstory. The friendship between Morales and Fisk feels authentic and humanizes the Kingpin. Unfortunately, the 20-page limit does force Bendis to rush the plot.
This is the sort of quality fans deserved from such an anticipated crossover. One can only hope that Bendis can stick the landing for these final two issues.
4/5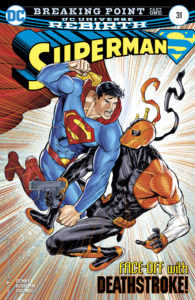 Superman #31
Written by James Bonny
Drawn by Tyler Kirkham
As Superman's wife, Lois Lane sometimes gets lost in the shuffle in Superman stories. In "Superman 31," writer James Bonny ensured that this was not the case. The story focuses on Lois instead of her super-powered husband. It is a change of pace, which makes this story stand out among DC's other solo series this week. Lois gets dragged into the middle of a conflict between Deathstroke and a mysterious group named The Throng. "Superman 31"highlights Lois's internal strength by removing Superman from the picture. It's rare that readers are treated to a Lois Lane–centric story, but the result is a resounding success.
4.5/5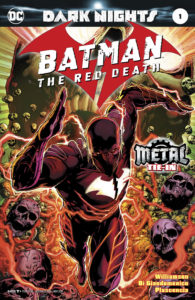 Batman: The Red Death
Written by Joshua Williamson
Drawn by Carmine Di Giandomenico
DC's latest company-wide event, "DARK KNIGHTS: METAL," has been gradually building up since June and now it is kicking into high gear. The latest chapter, "Batman: The Red Death," gives readers the most comprehensive look into the darkness and chaos that define this event. In this issue, writer Joshua Williamson presents a story about an alternate version of Batman that has lost everything. In the wake of this tragedy, he'll stop at nothing to become invincible in order to atone for his failure to save his loved ones.
Artist Carmine Di Giandomenico captures the gloomy, turbulent tone of the story by showing mass destruction in almost every scene's setting. His use of red skies and dark colors adds to the ominous nature of the story unfolding on the pages. It sets the tone for future tie-ins and captures the grim tone Williamson is trying to evoke.
"Batman: The Red Death" serves as a thrilling catalyst for "DARK KNIGHTS: METAL."
5/5