College administrators say the record-high tuition increase announced last week is necessary to support Ithaca College's operating budget for 2007–08.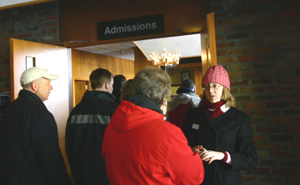 In a letter sent to students' parents last week, President Peggy R. Williams said the college's goal is "to equip students with a quality education that will enable them to achieve their dreams," and the tuition increase will allow the college to move forward with its institutional plan.
A report released last October by the College Board, "Trends in College Pricing 2006," said published tuition and fee charges at four-year private colleges in 2006–07 averaged $22,218. This is an increase of 5.9 percent from the previous year, or 2 percent after adjusting to the rate of inflation. After adding room and board, the average comes to $30,367.
Last week, the college announced that Ithaca College's board of trustees approved a $28,670 undergraduate tuition for the 2007–08 year at their Feb. 14 to 15 meeting in New York City. The approved tuition is an increase of $1,838 from the current year, the largest increase in the college's history. This increases tuition by 6.85 percent, the largest percentage increase in the last 15 years.
A $11,128 cost for room occupancy, double room occupancy and health insurance brings next year's total cost of attendance to $39,798. This is a 6.04 percent increase from this year for on-campus students.
Carl Sgrecci, vice president of finance and administration, said more than 90 percent of the college's operating revenue comes from students and their parents. He said that the college's proposed operating budget for next year is $178 million — an almost $9.8 million increase from this year.
According to Sgrecci, the most important reason for the rise is a more than $6 million increase to employees' compensation and benefits packages. He said about half of this includes general salary and wage increases for current faculty and staff, which are given based on performance and merit.
Also included are general increases to benefit programs; funding for new positions, including custodial and maintenance positions in the School of Business; a post-retirement health care program; and funding for a faculty workload project and staff compensation review program.
Sgrecci declined to release the percentage increase of general salary and wages because employees have not yet been notified of this information.
The cost of facilities is a factor in increases in the costs in higher education, Sgrecci said. He said new buildings, such as the college's new School of Business, continue to be built, but nothing is being taken away.
"There's a dynamic in higher education that seems to be in a growth mode, in terms of where we spend our money, and its being driven, to a large extent, by students and their families, what they want," he said. "New buildings is one example, additional security in the residence halls, all of these are good things, but they take new money and more money, and it is not an immediate offset."
Williams said some costs, such as those from insurance and utilities, are out of the college's control. Williams also said she has continued to be disappointed in the lack of financial aid from the federal and state governments. But this can't stop the college from moving ahead with its institutional plan, she said.
"You're not going to not increase the compensation for your faculty and staff, and you're not going to not improve the quality of programs," Williams said. "But we're also having to provide financial aid at a rate that we might not have to if the two governments would bear their share of responsibility."
Junior Brooke Hundley, a Martin Luther King Jr. scholar, said she feels as though the issue of tuition is out of her control, and she doesn't know how she could even go about showing her concern. A portion of MLK scholars' tuition costs are paid for by the scholarship. Hundley said she would not be able to afford the college's tuition if not for the partial scholarship she receives.
"I appreciate the school for what it's worth, and the opportunities they did give me to go here and work out tuition," she said. "But at the same time, I don't feel that this institution necessarily is any better than maybe a community college or a smaller private college that wouldn't charge as much."
Sgrecci said an average of 75 percent of students at the college receive some sort of financial aid. He said for both the 2006–07 and 2007–08 school years, the college budgeted about 34 percent of tuition for financial aid. Therefore, next year the total amount of aid, budgeted at $60 million, is an increase proportional to the increase in tuition, Sgrecci said.
Larry Chambers, director of financial aid, said when tuition is increased, there is no corresponding dollar amount increases for specific scholarships. Chambers said in 2007-08, merit-based awards such as the President's Award, will continue to see small changes, but no specific scholarships will receive significant increases over others.
Chambers said one new scholarship, the Flora Brown Award, will grant $4,000 to incoming students who show academic promise but don't meet the criteria for other merit-based awards.
Matt Fee, director of the Park Scholar program, said the tuition increases for next year won't affect current or incoming scholars. Park Scholars' tuition costs are covered by the scholarship. He said for each entering class, grants are submitted to the Park Foundation about a year and a half ahead and budgeted for tuition increases. However, Fee said that if tuition continues to rise, the program may need to reduce the number of scholarships given.
Sgrecci said other significant increases include funding for new facilities for the physical therapy program in Rochester, transportation costs for athletics and an off-site location that will allow computers and software to run in case of an emergency at the college.
Funding for new initiatives includes expanding the Ithaca Seminar program for incoming students, a new employee wellness program and a staff position to administer a new security program, which will begin in the fall of 2009 and require card-access for residence halls, Sgrecci said.
Michael Allison, the parent of a prospective student from Connecticut, said the rise in Ithaca's tuition wouldn't affect his decision to send his son to the college. He said that from what he saw during his tour of the Park School, he would be getting his money's worth. Allison said he wouldn't single out Ithaca from other schools as being too expensive.
"The cost of higher education in general is absurd," he said.
Sgrecci said for now, there is no easy way for the college to counter the trends of rising tuition.
"Ultimately, to bring some of these things under control, at some point, some day, we'll have to re-examine if there are opportunities for us either to consolidate or do things differently, so that we don't have to have an increase every year," he said.