War, water lilies and the World Series are not words that generally come to mind when describing the activities of a member of the National Athletic Trainers' Association Hall of Fame.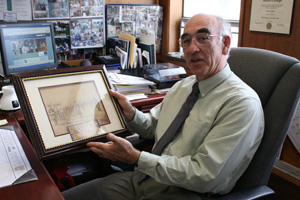 When Kent Scriber '72 is not lecturing about ligaments or on the sidelines of a game, he is researching his ancestors who lived during the Civil War, working on the ponds in his backyard and improving his home baseball museum.
"There are so many things I find interesting," Scriber said. "People think I'm crazy, but I'm just really passionate about a lot of things I do outside of work."
Scriber began teaching at Ithaca College a year after he graduated with an undergraduate degree in physical therapy. In 2000, he was inducted into the National Athletic Trainers' Association Hall of Fame.
Courtney Gray '99, an athletic trainer and former student
of Scriber, said his qualifications and experience are invaluable to their profession.
"He is so knowledgeable and so actively involved nationally and at IC," Gray said. "It is so great to work and learn from someone with his level of experience."
Scriber has been a teacher and leader in his field for more than 30 years.
"I love working with students and the clinical aspect of my job," Scriber said.
Becky Bedard, a sophomore athletic training major, said Scriber is a great teacher, and said he often tells stories to break up his lectures.
"He has a lot of random quirky stories …," Bedard said. "His classes are great. He's an awesome teacher."
Outside the classroom, Scriber's interests expand far beyond present-day sports.
He began investigating his relatives' existence during the Civil War with a few casual Internet searches. It quickly grew into a more elaborate search. Scriber said he finds the research both entertaining and challenging.
"I'm like a detective," Scriber said. "Everything I have found out has been something I dug up and read myself."
Scriber published an article on the New York State Military Museum Web site about his family in the 24th and 184th New York State Volunteer Infantry Regiment. Scriber described the article as a living document because he updates it often.
"Every time I find a little piece of information, I add on to [the article]," Scriber said.
Last semester, Scriber taught a weekend seminar on his Civil War research to students in the Washington Semester Program. They traveled to the Manassas battlefield in Virginia, where Scriber's relatives fought in the First and Second battles of Bull Run.
"It's fun to teach something different," Scriber said. "I enjoyed having different students of all different majors doing something totally unrelated to my professional expertise."
Taking a break from teaching and research, Scriber's at-home activities include maintaining a large baseball collection and tooling around in the yard.
"I have a baseball museum in my house," Scriber said.
Scriber's extensive baseball memorabilia collection is housed in elaborate glass display cabinets.
"It's truly incredible," Gray said. "Even the best picture wouldn't do it justice."
Four years ago Scriber picked up another unusual interest: creating garden ponds.
"I thought digging ponds would be a fun activity," Scriber said. "Now they are complete with turtles, frogs, fish and salamanders."
Scriber's two ponds are more than just fun — last summer his ponds were a selected site on the annual garden pond tour sponsored by Totalily Water Gardens of Spencer, N.Y. Nearly 60 visitors turned out.
Thomas Bohn, director of Ithaca College's Washington Semester Program and a friend of Scriber's for the past 20 years, said he believes it is Scriber's insatiable
curiosity that absorbs him in
everything he does. Bohn recalled a golf outing the two of them had recently that proves just how dedicated Scriber is to his interests.
"We're looking for my golf ball … and Kent [was] by a pond searching for frogs to bring back to his garden ponds," Bohn said.
Bohn commended Scriber's commitment to his many pursuits.
"He maintains a strong passion and skill for athletic training," Bohn said. "But at the same
time, has intellectual and emotional capability to grow and do so much more."