Some members of the Bureau of Concerts are questioning whether the organization will be able to host a performance in one of Tompkins County's largest indoor entertainment venues — Ithaca College's Athletics and Events Center — anytime soon.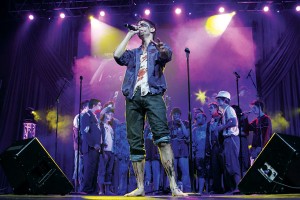 Funded mostly by private donors, the $65.5 million A&E Center includes the Glazer Arena, with an occupancy of 6,700, that despite being billed as a venue for campus and community events, has only hosted one concert since its August opening.
The general consensus among BOC's leaders remains that the group could not afford to use the A&E Center unless it partnered with an outside group or promoter who could assume much of the show's financial risk. BOC operates on an annual budget of around $70,000, according to sophomore Robert Hohn, vice president of business and finance for the Student Government Association.
David Prunty, director of Campus Center and Events Services, said because BOC is an on-campus organization, the college would not charge a renting facility fee to use the space, but the bureau must meet all production costs that could stretch into the tens of thousands.
Prunty said he couldn't offer a ballpark production expense because he believes the figure will depend entirely on the show's atmosphere. Despite rising artist fees, which Prunty said will ultimately be the major costs associated with the space, he added that, with proper planning, production costs should be covered by ticket revenue.
"The money is not in the production or our services," Prunty said. "The money is in the artist."
Senior Jimmy Knowles, president of Ithacappella, said the group, which held its Block I concert in the A&E Center, encountered difficulties in preparing for the  show, having to outsource much of the sound and lighting equipment. The ensemble group also had to cover labor costs to rig the lighting, lay down the protective flooring on the arena's indoor track surface —  which Prunty estimates at $750 — and prepare additional staging.
Though the space allowed Ithacappella to nearly double its typical Emerson Suites audience of 650–700, Knowles estimated the A&E show cost the group about $25,000 more than the usual $5,000 it costs for its Emerson shows.
Filling the audience, Knowles said, is another challenge associated with the A&E Center, as a less-than-capacity crowd could hamper the concert's overall feel.
Theresa Radley, assistant director of student involvement in the Office of Student Engagement and Multicultural Affairs, said given Glazer Arena's large capacity, the BOC would need to secure a high-profile artist to fill the space and therefore offset the artist fees and production costs in ticket sales. Booking such a name could consume the group's entire annual budget, she added.
Rapper Taio Cruz, who will perform at Cornell University for Slope Day, charges more than $85,000 to perform at a college, according to Concert Ideas, a college concert booking agency.
Claudia Pietrzak, BOC's co-director, said a bureau-administered survey conducted earlier this semester conveyed a majority of the 400 respondents would prefer several smaller shows — the group will ultimately have hosted five professional shows this academic year — rather than one large show.
"Every single student always asks me, 'Why can't we have concerts [in the A&E Center]?'" she said. "The truth is that BOC really wants to have shows there, but it would just be a huge amount of money that BOC doesn't have — at least right now."
Beginning next year, BOC's budget will come directly from OSEMA, rather than through the Student Government Association, Radley said. In their agreement with OSEMA, BOC will be able to roll ticket revenue back into that year's budget.
The budgetary change is not tied to the possibility of an A&E Center show, Radley said.
Rob Flaherty, vice president of communications for SGA, said the body, which serves as the steward of an annual student activities budget around $385,000, distributes funding to more than 150 student organizations, allowing little flexibility in allocating student organization budgets.
"If we were able to put on a big concert in that way, it would take up most of our student activities budget," Flaherty said. "We could nix student organizations entirely and put it toward the concert, but obviously we're not going to do that."
Junior Jared Dionne, BOC's incoming director and a staff writer for The Ithacan, said he hopes BOC will host an A&E Center concert in the future, but the group considers Emerson Suites its primary venue when planning acts for the fall.
"As far as the A&E Center goes, students really shouldn't be holding their breath," he said.