Andrew Orgel '74 has helped launch TV stations including Nickelodeon, MTV and A&E. He's founded and cofounded a number of media companies such as 1Degree Media and Interactive Enterprises and has been labeled by Success Magazine as the man who "made TV interactive."
After these and many other accomplishments, Orgel has decided to work for to the school that gave him his start.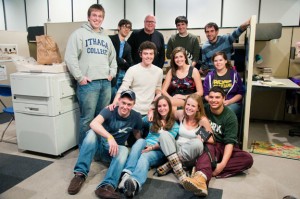 Orgel, a graduate of the Roy H. Park School of Communications at Ithaca College, was named the assistant to the dean for industry relations Nov. 1.
In his new position, Orgel will serve as a bridge between the Park School and the media industry and will seek to open up job and internship opportunities, bring in new equipment and donations and enhance the school's visibility in the industry.
"The industry is changing so much that I think the people in it can't keep up with it, let alone students," he said. "If we can stay toe-to-toe with the industry and mirror it and also affect it, then our students can have a really big impact."
Orgel will spend some of his time as assistant to the dean on the road and across the country, meeting with media professionals and bringing in resources to the college.
Diane Gayeski, dean of the Park School, created the new position on an experimental basis with the help of outside donations. Gayeski said it was important for the school to reach out to communications professionals to keep Park on par with the industry.
"As I looked over the resources I had as dean of the Park School, one of the things I realized is that we need more and more engagement with the outside world," she said. "I needed to basically expand my own capacities and capabilities by having someone who was focused on industry relations who would be located outside of Ithaca."
Gayeski did not need to look further than her own Ithaca College class. She and Orgel graduated in 1974 with another 150 Park students, back when the college was one of only a handful of leading communications schools and when Rod Serling, writer and producer of "The Twilight Zone," was teaching on campus.
Gayeski said she had an early respect for Orgel that continued into their professional careers.
"Even when we were in class together in 1974, it was apparent that he was very serious and very forward-looking," Gayeski said. "He was always interested in economic models and the business behind the communications industry, and his career has proven that he has been a success in those areas."
Since returning to the college, Orgel has collaborated with Nancy Cornwell, chair of the television-radio department, on a new mini-course called "sPark."
Orgel said the course will introduce students to changes and trends in media technology. He said students will be encouraged to take the course in their freshman and senior year so they can remain aware of any shifts in industry standards.
Orgel said returning to work at the college has been a nostalgic experience, and he recalls working as a DJ on WICB during his time as a student.
"I thought I was going to be a radio personality when I graduated," he said. "But a younger Park student told me that I sucked at the radio. And then she married me. So I guess that was the end of what could have been a fabulous radio career."
As assistant to the dean, Orgel is also responsible for maintaining contact with students. Though he has been on the job for less than a month, he has already immersed himself in that process by visiting Park student productions and talking with students about job opportunities.
Sophomore Nate Breton, a cinema and photography major and director of ICTV's show "To a Pulp," said he invited Orgel to one of his film shoots while he was in town but did not expect Orgel to be so helpful so quickly.
"With some alumni you feel like you have to say it point-blank and say, 'I'm looking for a job in such and such, can you help me?'" he said. "And you always feel awkward doing that. But with him he just steered the conversation that way."
Orgel said he is looking forward to working one-on-one with students at the college, sharing ideas and inspiring  a passion for communications.
"I like the interaction with the students," he said. "I like to watch their productions, I like to meet with them and I like to talk with them in their classes. Maybe it makes me feel like I'm back in school."