Cara Rosenberg Nichols '03 still remembers what she wrote about in her application essay to Ithaca College. Nichols described her experiences bailing hay on her family's farm in Ithaca. Now, she reads hundreds of stories from students applying to the college just as she did.
Nichols returned to the college this year as the new assistant director of admission. Having  graduated from the Roy H. Park School of Communications with a degree in broadcast journalism, she said she is able to share her experiences at the college with prospective students.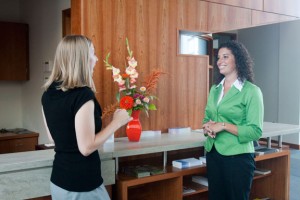 "It was an easy transition because I am an alumna," she said. "I had a fabulous time here, and to be able to share that with future students is extremely rewarding."
After graduation, Nichols worked at a local TV station and said she found that her chosen field left her feeling burned out. She took some time off and traveled to Australia for three months before stumbling into a job in higher education at Hartwick College in the admissions office.
She said her years working in journalism helped prepare her for her current position.
"I enjoyed all of my experiences in journalism," she said. "But in the end I decided it was not quite the right field for me," Nichols said. "Working in admissions is people-oriented. A background in communications prepares you for this line of work."
A personable, open and chatty woman, it is easy to see why Nichols fits in so well in her current position. She said growing up in Ithaca, where she was constantly surrounded by higher education, was a big influence in her decision to pursue a career in the field.
Nichols said it's rewarding for her to be a part of the process now.
"I enjoy being part of the college search and decision process," she said. "And once students choose to attend Ithaca, it's wonderful to be able to connect with them, being a grad myself."
Nichols' job includes running open houses and other on-campus events for prospective and accepted students, supporting tours, reading applications and recruiting students. She said the office had a great foundation in place already and she enjoys  working with a variety of people.
"I interact with different people every day," she said. "I'm not the type to do the same exact thing day in and day out. That gets boring for me. I get to work with faculty, staff and students and it incorporates all different interests of mine."
Jason Berry, assistant director of admission, said he has known Nichols for a few years and often saw her at college fairs when she worked at Hartwick. Berry said being familiar with the school gives Nichols an advantage.
"It definitely helps that she already knows the school," he said. "It's a huge bonus for her."
Outside of work, Nichols plays ice hockey and enjoys being outdoors. She runs, hikes and skis throughout the year, and she said her passions lie in travel and volunteer work.
"I try to make a trip out of the country every couple of years or so," she said. "And when I'm home I also volunteer with non-profit
organizations like Camp Good Days and Special Times. I'm working on planning IC's Dance for Courage to benefit Camp Good Days in February."
Nichols said the college has changed in the past seven years, but certain spots still give her flashbacks of her time here.
"I work out regularly in the Fitness Center and I'll look around and half expect to see one of my housemates from college," she said.
Nichols said some of her favorite experiences at the college involved her work with ICTV, producing the broadcasts of football games and working for "Newswatch 16."
Gerard Turbide, director of admission, said Nichols was enthusiastic about the position and has the background to make the campus visit program, her primary focus, even more successful.
"[Nichols] is obviously comfortable here, and that makes the transition easier," Turbide said.
Nichols said she is excited to be back in her hometown and plans to stay for some time. She said it's the college community that makes former students like her want to return.
"When I was at school here there wasn't a cookie-cutter type student who went to Ithaca," she said. "[Current students] are the ones who are living this right now, and to be able to share in all of the wonderful things you are doing helps me market the college as best [I can]."