In light of anti-fracking filmmaker Josh Fox's arrest earlier this month, environmental activists at Ithaca College are bringing hydraulic fracturing back into mainstream debate.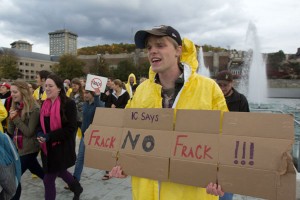 D.C. Capitol Police arrested Fox, the Academy Award-nominated director of "Gasland," an anti-fracking HBO documentary that examines the effect of natural gas drilling on residential communities, Feb. 1 in the Rayburn office building after he attempted to film a subcommittee meeting on fracking.
Since his arrest, almost 30,000 people have signed a petition urging Rep. Andy Harris (R-Md.), chairman of the House Subcommittee on Energy and the Environment, to apologize to Fox and respect his First Amendment rights.
"This is a blatant censorship and a shameful stain on this Congress," Rep. Maurice Hinchey said. "I stand by Josh's right to record this hearing. His arrest was a huge mistake."
Though he was upset, Fox wrote on his Facebook page that he was excited by the amount of attention the arrest received.
"They chose to attack science and journalism in one fell swoop, defending the oil and gas industry against the health of all Americans," Fox said. "I am glad that the bullying, shortsighted, lawless and corrupt behavior of the current congressional leadership and their relentless attacks on EPA and on the pursuit of truth has been exposed."
Hydraulic fracturing is a procedure used by oil and gas companies to drill for methane gas. To siphon the natural gas from underground rock formations, drill workers inject sand, water and chemicals into the rock formation, opening the pre-existing rock fractures. Ithaca rests on the Marcellus Shale, which is a subterranean rock formation that contains largely untapped sources of natural gas that fracking would access. Fracking supporters, meanwhile, point to the potential economic benefits of gas drilling in rural communities. Gov. Andrew Cuomo's proposed budget does not include funding for hydraulic fracturing.
Sophomore Kaela Bamberger, co-president of IC Frack Off, an on-campus student group, said she is glad to see people talking about fracking again.
"Something so controversial had taken place with [Josh Fox] that I knew it would draw attention to the issue," Bamberger said. "The person who told me about it is someone who's not really involved with the anti-fracking movement. That was exciting because he was getting news on it where as otherwise he wouldn't have."
Frack Off has previously screened Fox's "Gasland" on campus, and the filmmaker visited South Hill in November 2010. Bamberger said the group plans to focus on raising awareness of alternative energy sources to natural gas this semester.
"Instead of fighting 'against against against,' we should be promoting 'for,' so for alternative energy and for sustainable practices," Bamberger said. "One thing we're trying to do is wade through the red tape of getting a windmill on campus."
The college has conducted a wind turbine feasibility study, but according to the IC Wind Power Project, there are no plans to construct an on-campus wind turbine in the immediate future.
Ren Ostry, an-anti fracking advocate who's been involved with the movement at the local, state and national levels, said this arrest shows fracking supporters are concerned with the support the movement has gained.
"Any time our opposition steps up in a unique way like this, it shows that they're threatened, and it shows that we're winning," Ostry said. "That's just incredibly powerful."