The Asian Culture Club, which has been on the Ithaca College campus for 16 years, is working to have a stronger presence on campus by hosting Focus Asia Month.
Senior Tiffany Cheng, ACC president, said that while this year the college enrolled the highest number of African, Latino, Asian and Native American undergraduate and graduate students, Asian-American issues are still underrepresented.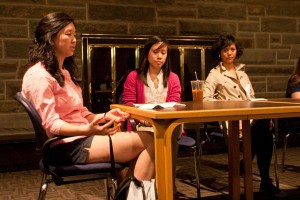 "Certain racial groups are taken a little more seriously than Asian-American students, but I know that Asian-American students take up a large part of [the college] definition of diversity or the diverse ALANA community they so-called have," Cheng said.
Cheng said the college's Inside Look program, where high school minority students spend a weekend at the college, attracted her to the campus. But, she said, the program did not give an accurate representation of the college's student body.
"It was a way to cheat ALANA students into coming," Cheng said. "I don't think the program gives a wide enough spectrum of what exactly goes on every day for ALANA students."
The Admissions office could not be reached for comment Wednesday.
This year's Focus Asia Month is replacing movie screenings with a human rights' event at IC Square and a lesbian, gay, bisexual and transgender event. The club will also provide entertainment such as karate and origami. There will also be calligraphy booths and food during its 16th Asian Night at 7 p.m. tomorrow in IC Square. The month will end with an awards ceremony to honor prominent Asian-Americans in the college and local community.
"I hope that my work with ACC has inspired a lot of people to go back and look at the history of Asians in the U.S. and how they were the foundation of why Asian-Americans are the way they are today," Cheng said.
As a current member of and former spokeswoman for the ACC, junior Sherry Shen said she hopes the activities will also raise awareness of Asian stereotypes as the "model minority."
"People don't realize that even though people say it is a positive stereotype, it really isn't," Shen said. "We're considered a group that has already assimilated into 'whiteness.' It is very important to make it clear to people, especially through the Asian Culture Club, that this is not the case."
ACC Vice President Yeana Hyun said the club is trying to meet specific goals such as petitioning for an Asian studies program.
"Brainstorming for the e-board this year, we asked ourselves, 'What would we like to see on campus that we don't have already?" Hyun said.
Hyun plans to petition for an Asian studies program next year. Cheng also hopes to make the club have a lasting impact to the school.
"It's interesting that we've been here 16 years, but we haven't had one [Asian studies] class that goes on every year," Cheng said. "If the school can't care about Asian issues, what can you expect from students?"
Cheng said she expects a lot more from her college campus and is using Focus Asia Month as a way to bring Asian issues to the forefront.
"This is my outcry for saying that the school should start thinking and re-evaluating their programs and bringing Asian-American programs to their curriculum," Cheng said.