When senior Samantha Corrado was in kindergarten, her teacher asked her to draw what she wanted to be when she grew up. She sketched herself next to a dog standing on top of the world.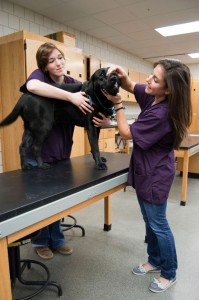 "Ever since I found out that there was a doctor for animals, I thought, 'That is what I want to do,'" she said.
Now Corrado, a senior biology major, is well on her way of achieving her career goals with the help of the Ithaca College Pre-Vet Society.
Corrado founded the organization in Fall 2009 along with now-seniors Alyson Waring, current vice president, and Noelle Litra, the club's secretary. Since its inception, the club has grown to include more than 20 active members.
This semester, all three of the Pre-Vet Society's founding members were accepted to veterinary school. Waring was accepted to University College Dublin in Ireland, and Corrado and Litra were accepted to Tufts University.
When she first came to the college three years ago, Corrado joined the Pre-Med Society at the college hoping it would help her through the process of applying for veterinary school upon graduation. However, she said it quickly became clear to her that the organization could not give her the information and support she needed as an aspiring veterinary student.
Corrado said she founded the club as a way of guiding students interested in the veterinary field throughout the process of applying to graduate degree programs. She said the group also coordinates opportunities to work with animals through community service. She said students who like working with animals but are not pursuing a veterinary career are also welcome.
Jean Hardwick, professor of biology and the group's adviser, said there are only 28 vet schools in the country, so being admitted is extremely competitive. Hardwick said the school has had graduates accepted into veterinary programs before, but very rarely. This is the only year that three graduates have been accepted.
"More students apply to medical school, but proportionally, vet schools are more competitive because you have a large number students competing for a small number of seats," Hardwick said.
Waring said the organization gives students the community service experience they need to be competitive applicants.
"Usually, everyone is just as qualified as you and just as dedicated as you," she said. "A big thing when you apply to vet school is your experience with animal handling. You log your hours and that is counted in the application."
Members of the Pre-Vet Society volunteer at the Tompkins County Society for the Prevention of Cruelty to Animals, the Wildlife Nature Center and the Meadowgate Equine Rescue and Rehabilitation Facilities. This semester, Waring also coordinated visits to the Cornell University College of Veterinary Medicine to assist in the clinic and help during surgeries.
"Setting up the connections to try to get places where you can shadow or volunteer is a really big step that a lot students are intimidated by," she said.
Corrado said the organization also aims to inform students about the academic requirements for vet school. Each semester before class registration, she said, the club holds a meeting to make sure students understand which classes they need to take and how to go about taking the GRE, the standardized test required for entry into most graduate and veterinary schools.
Corrado describes the exams as "SATs on steroids."
"For the past four years I've taken science and math classes, and then I had to relearn vocab words and do the whole SAT thing again," Corrado said. "It was hard."
Growing up on a horse farm an hour north of Syracuse, N.Y., Waring participated in equestrian competitions throughout her life. But, it was not until she came to the college that she decided to become a veterinarian.
"It just clicked," Waring said. "This is what I was designed to do. This is exactly how my brain works. This is exactly what I love to do."
She said faculty at the college have shown support throughout the application process.
"I told my research professor I got into veterinary school, and he gave me a high five and a chest bump," Waring said. "Everyone in the department is so proud of us, and it has just been amazing."
Corrado said the club already has an executive board ready to lead the organization in her absence next year. After graduation, she plans to become an oncologist or radiologist and begin a private veterinary practice.
"Eventually I would like to have my own practice," she said. "I would love to have a safe place for [dogs], without them having to worry about being euthanized."