Students and faculty packed into Textor 102 Tuesday, filling the isles to hear well-know author, feminist and cultural critic bell hooks, the penname of Gloria Jean Watkins, speak about media stereotyping based on race and gender.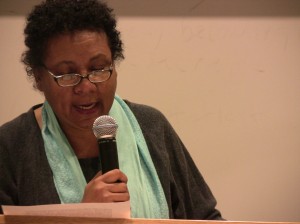 The Ithaca College Center for the Study of Culture, Race and Ethnicity organized the event as part of its annual discussion series. It is the second time hooks has spoken at the college since her visit 10 years ago, covering topics relating to race, female suppression and media stereotyping of minorities.
Women are often left out of these discussions patriarchal men think they don't have a right to a political opinion, hooks said.
Hooks also said woman are portrayed in extremes by the media, often being shown in a negative light. Hillary Clinton was one prominent female figure hooks used as an example.
"She was depicted as emasculating, castrating and eager to devour the patriarchal male," Hooks said.
Hooks said Hollywood plays a vital role in perpetuating stereotypes of all races and genders, through movies like "It's Complicated," "Precious" or "The Blind Side."
Lindsay Serrano, a sophomore at Cornell, said hooks made her sheech relatable to college students by using contemporary movies and media as examples.
"I thought it was really interesting and really relevant when she brought in the new media," Serrano said. "I really liked how she analyzed films and books."
Hooks said when people deem some people worthy and others not worthy it is evidence that "we are in a time of growing facism." She said using caller ID to ignore certain people's calls or deleting people from Facebook serve as modern examples.
Freshman Moriah Petty said she enjoyed the informal format of the lecture.
"She wasn't just schooling you on something, it was kind of like a rant," Petty said.
Asma Barlas, director of CSCRE, said students benefit from listening to speakers like hooks.
"To hear somebody who in her own lifetime, has made such a deep intellectual impact on the thinking of people," Barlas said. "I think this is a rare opportunity for students from all kinds of disciplines and backgrounds."
CSCRE will host its last lecture of the semester "Who We Are and What We Do," at 7 p.m. Nov. 8 in Clark Lounge.