Blind Pilot began as a five person folk-rock outfit in Oregon, but since starting their career, their critically acclaimed folk sound has led them on tours throughout the Northwest on bicycles and to the top of iTunes charts. The band has performed on CBS' "The Late Show with David Letterman." On Feb. 11, their converted school bus that doubles as a tour van will stop at The Haunt in Ithaca.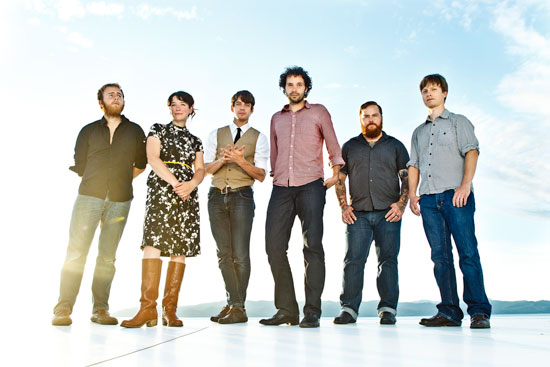 Staff Writer Evan Johnson spoke with lead vocalist and guitarist Israel Nebeker about the band's rise in popularity, writing music and what it feels like to be given a shirt by David Letterman.
Evan Johnson: Are you excited to be going back on tour?
Israel Nebeker: It's always really exciting, especially at the beginning before the tour. I mean every show is, and especially when it's coming up. Near the end it's like, 'OK, we've done a lot of shows. I'm ready to get back home.' But, for now, we're ready to get back on the road.
EJ: To start, what was it like going on a tour with bicycles as transportation?
IN: It was great. It was easily one of the best times of my life. We met tons of really great people and people that normally are outside the realm of who you'd meet in your circle. We were pretty vulnerable out there, looking for gigs wherever we could find them, and people caught onto that vibe and were very generous with us and with their time and getting to know us. It was perfect.
EJ: What was it like to not only give a performance on Letterman, but also for him to hand you a shirt in the process?
IN: It was actually kind of a jerk move. Off camera, there was a fan of his who had come to see the show and had brought the shirt to give to him as a gift. I thought it was kind of sweet, but apparently David Letterman doesn't like plaid, so he saw me wearing a plaid shirt, and he said, 'Hey, you want a shirt?' And he re-gifted the shirt right in front of that guy. But I was stoked to be handed a shirt by David Letterman. I wore it the next day.
EJ: Your band uses a lot of instruments that one typically doesn't find in conventional acts, like a vibraphone and an organ. What made you decide you wanted to experiment with that kind of a sound when you began to make music together?
IN: To be honest, I can't remember what it was. It all came together when we were recording the first album we put out, "3 Rounds and a Sound." Ryan [Dobrowski] and I had laid down the basic tracks, and the songs were pretty full, but we wanted to add other things over them. It just sounded fun to add instruments you wouldn't expect to be in it. Maybe that has something to do with the fact that we didn't go into it thinking, 'These are guitar songs.' They're not big rock songs, and you don't need a bass on every one, a rhythm and lead guitar or anything like that. It seemed to make more sense to orchestrate things around [the song], and so other instruments lend themselves better.
EJ: Both of your albums have been critically acclaimed. How have you adjusted to the group's success?
IN: I remember sitting in my apartment looking at the charts on iTunes and looking at my own album on there, and it was completely surreal. But I think ever since then it's been small increments, and we're just still doing the same thing we've always done — just trying to make music that we love and that we love to play for other people. The biggest thing that's changed is just knowing that people will hear things. With the last album there was some time where it was freaking me out just a little bit to write words that I knew other people would listen to, which was a totally new thing for me.
EJ: Your lyrics have a really strong literary feel to them, and there's a lot of emotional and poetic language there. What do you draw inspiration from when you sit down to write songs?
IN: It's all life experiences — things I'm going through, memories, etc. I usually don't stay on a truthful line with my own life, but it all starts there. I'm inspired a lot by relationships, stories that my friends tell me and also place. Not always, but in the last couple albums, songs that I've made have somehow been rooted in "place" and what the idea of home is or my specific place. This last [album] is about the lack of place because we've been traveling for three years.
EJ: Now that you've got this collection of material, what can the audience expect when you perform at The Haunt next month?
IN: I don't know why that's always the hardest question for me because we're not a very theatrical band at all — it's not that kind of a show. We just try to enter ourselves as much as possible so the audience is comfortable enough to do the same. We're very straightforward with our live performances.