Heading west on Route 222 toward St. Anthony's Cemetery in nearby Groton, N.Y., American flags hang over phrases such as, "'We the People' ask where is the legal system," "Cornell violated the federal Clery Act" and "Why is Pres. Obama and the F.B.I. covering up terrorism-torture and murder for Cornell?"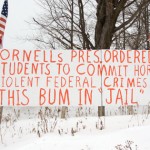 John Beck, a former part-time employee of Cornell University, has been waging a campaign against Cornell since he was fired in August 2003. He claims Cornell has abused animals and wrongfully terminated his employment and that the town of Groton is attempting to violate his freedom of speech. He has gone so far as to write President Barack Obama nine times about Cornell.
While working part time on the dairy farm of the Teaching and
Research Center at Cornell, Beck said, he was terminated for insubordination for refusing to stop feeding feral cats on the property.
"The reason I am speaking out against Cornell is the president of Cornell fired me for feeding these non-research animals, which Cornell has been feeding for over 40 years," he said.
After his termination, Beck sued Cornell on the grounds of negligence and prima facie tort, alleging he was fired out of "spite and without justification." Beck said he also sued Cornell to recover $28 worth of wages from the day he was terminated.
"The Constitution and the Bill of Rights say if there is a dispute of more than $20, you are allowed to go to court for a jury, and these judges denied me that," Beck said.
Cornell representatives declined to comment on Beck's case.
According to State of New York Supreme Court documents, in July 2003, Cornell determined that its policy of feeding and caring for feral cats was to end because of concerns that their reproducing posed a risk of the spread of a parasitic disease to dairy cattle and employees.
Beck continued to feed the cats with food he purchased and said Cornell was directing him to violate Section 353 of the Agriculture and Markets Law, which prohibits injury to wild or tame animals.
"Cornell ordered students and Cornell workers to torture by starvation Cornell's own non-research kitty cats to such an ungodly death," Beck said. "New York state law says once you start feeding an animal, whether it's yours or not, you cannot quit feeding it. It's a crime."
The court found that the withholding of food from feral animals is not a violation of Section 353 of the Agriculture and Markets Law and therefore did not state a cause of action. The case was dismissed, but Beck appealed to the New York State Appellate Division, which also confirmed the Supreme Court properly dismissed the case. The court also found no legal support for Beck's claim that he was entitled to be paid for the day he was fired.
According to the appellate division court summary, Cornell "initially provided food for the cats and paid for them to be spayed, neutered and vaccinated." The Cortland County Society for the Prevention of Cruelty to Animals investigated the matter and found no evidence of animal cruelty.
"Feral cats are wild animals for all intents and purposes," Bill Carr, chief law enforcement officer for the Cortland County SPCA, said. "It doesn't make you responsible for them under New York state law."
Carr said if a person leaves food and water out for stray or feral cats, New York state health law says it is the responsibility of the person to have the animal vaccinated, but that is their only responsibility. Carr also said the case was sent to the district attorney's office, which declined to prosecute.
After losing his battle in courts, Beck took his message to the street.
Beck was due to appear in court Tuesday for exceeding zoning requirements for the Town of Groton until the case was dismissed without prejudice, which allows for re-filing of the case in the future. Gary Coats, code enforcement officer of the town of Groton, said any person could have 50 square feet of signs with no more than two signs in a zoned area.
Coats said Beck's signs exceed that limit.
"Two or three years ago, I said, 'Mr. Beck, you've got a message you want to get out. My problem is, you've got too many signs doing it," Coats said. "How long will it take you, do you think, to get your message out?'"
Coats said he gave Beck three months to take the signs down, but when the deadline came, Beck refused to remove them.
"His response was that they're freedom of speech, and they're art," he said. "I don't dispute the freedom of speech. I don't deny that it's art. I just say that there's too many there."
Since the case was dismissed without prejudice, Coats said the local courts can merely fine Beck, but he believes the case will go to the Tompkins County Supreme Court.
"The town has gotten numerous complaints, and they are all documented, and they are all part of the case," Coats said. "The town wants to get the signs down to what's allowed by zoning."
Still, Beck said he believes Cornell should face criminal charges for what he considers to be "animal abuse." Jim Kane, a farmer and one of Beck's neighbors, said Beck will continue to fight, but seeing results is unlikely.
"I wouldn't bet the farm on it," he said. "You can't take down Cornell. It's like taking down a big corporation."
Equipped with his red and white hat, which reads, "John Beck says Cornell is a Terrorist University," Beck said he is determined to have his day in court.
"It's not really what they did to me; it's the animals," he said. "The people should demand all animals be removed from Cornell's control."