Following a federal deficit-reduction bill implemented in January, college students across the country are facing higher birth control prices — and less insurance coverage.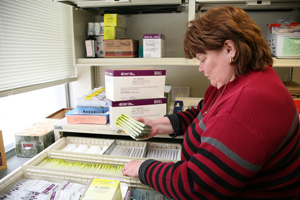 The bill raised the fee pharmaceutical companies must pay to Medicaid and reversed a former rebate law that allowed companies to offer discounts to college health centers.
According to a survey by the American College Health Association, 39 percent of undergraduate women use oral contraceptives. Many purchase birth control from college health centers because of reduced rates often given to students, but as of January, those rates have disappeared.
Karen Eldredge, manager of operations at Hammond Health Center, is in charge of purchasing the college's supply of birth control and said the center tries to anticipate higher costs.
"We try to stock [birth controls] at the Health Center that we can keep basically at co-pay or below co-pay prices, or as low as possible for those without prescription coverage from their insurance," she said.
But because of the increase in prices this may no longer be possible, Eldredge said. Generic medications offer a lower price, but are often still priced fairly high, she said.
The Hammond Health Center currently offers four types of oral contraceptives. For three of these — Alesse #28 2g, Ortho-Novum 28's and Ortho tri-Cyclen 28's — the Health Center is able to offer generic brands which help keep the prices lower than they would be if the center used the name brands. The fourth type, Ortho tri-Cyclen Lo 28's, does not have a generic option.
Eldredge said she does not expect generic birth control prices to increase, but estimates Ortho tri-Cyclen Lo 28 to jump from $10 to nearly $40.
"We have a distributor from which I am able to purchase some generics at a reasonable price," Eldredge said. "But it is still not the deep discounts that we experienced for years and years so it's kind of discouraging."
Sophomore Sarah Brylinsky, promotions executive for IC Feminists, said the increase in birth control prices can be seen as a positive thing.
"Women bear the cost of prevention with most birth control," Brylinsky said. "The time is long overdue for the market to offer a male-oriented birth control option."
An alternative to high prices is insurance. The college-offered insurance program for students includes benefits when purchasing medications, Eldredge said. It does not have a specific prescription plan but offers students $150 upfront per diagnosis per year on medication, X-rays, lab testing and other expenses. The insurance covers 80 percent of the bill for those services and the student pays the remaining 20 percent, she said.
When a student is purchasing chronic medications, such as birth control, at $10 or $20 a month, the $150 pays for the majority of their prescriptions for the year, she said. When birth control costs $40 or $50, the money does not last nearly as long.
Sara Palmer, director of public affairs and communications for Planned
Parenthood of the Southern Finger Lakes, said the local Planned Parenthood centers see more than 5,000 patients between 18 and 24 years old annually for contraceptive services.
Palmer said she could not directly comment about the bill's price changes because Planned Parenthood is working to make birth control more accessible and affordable to all patients. Currently, Planned Parenthood prices birth control on a sliding scale determined by income.
"Prevention is the key here, not limiting access to safe contraception that could prevent millions of unintended pregnancies," Palmer said.