Though Gregory Schek is living nearly 5,700 miles from Ithaca College in a kibbutz outside Hafia, Israel, he said he has never felt such a connection to a foreign place.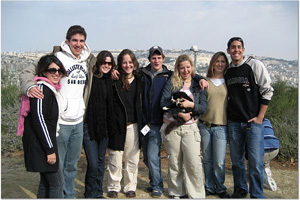 "When I'm here, I feel at home," he said. "My grandparents were Holocaust survivors, so the Jewish state is important to me."
Schek, formerly a sophomore at the college, decided to move to Israel soon after he returned to the United States from a trip there in the beginning of January. After he completes the required five months of language in May, he will serve in the Israeli Defense Forces.
"In Israel, the army is mandatory for all citizens: men, women, gay, straight," he said. "I didn't really have much of a choice, but I don't really mind."
Immigrating to Israel, or making aliyah, is considered a significant Jewish cultural experience. The act is preserved in Israel's Law of Return, which allows any Jewish person the legal right to immigrate and achieve citizenship in the country.
Schek, 19, traveled to Israel for the first time with an organization called Taglit-Birthright Israel. Through private donations, contributions from Jewish affiliates and taxes paid by Israeli citizens, the organization offers free trips to young Jewish adults between the ages of 18 and 26. Since its creation in 2000, Taglit-Birthright has sent more than 120,000 men and women to Israel.
Locally, the program is offered through the college's Hillel program. Students spend nearly 10 days touring the country, often visiting sites like the Western Wall in Jerusalem, the holy city of Safed, the palaces and fortresses of Masada, and the Golan Heights overlooking Palestine.
Sophomore Libby Gordon said her recent trip to Israel through Taglit-Birthright Israel was a religious reaffirmation. She said a few months before coming to the college, a fire at her synagogue shook her beliefs. Traveling to Israel helped her reclaim her faith.
"The trip absolutely strengthened my faith," Gordon said. "I have more hope and more connection to the religion."
Taglit-Birthright trips are not solely for those who have never been to the country before. Sophomore Andy Jacob had been to Israel before coming to the college, but failed to recognize its importance until his trip with Taglit-Birthright during winter break.
"The second time I went, I didn't just see where Sarah died and was buried," he said. "I understood why it was important to my religion."
With daily reports of violence coming from the Middle East, security is a concern for groups who travel to the country. Jessica Rosenblum, spokesperson for Taglit-Birthright Israel, said safety is one of her organization's top priorities.
"The Israeli government has laws about safety precautions, and Taglit goes far beyond them to protect trip participants," she said.
The groups, according to Rosenblum, have a cache of guardians, including army medics and soldiers. She said the Taglit-Birthright trips only travel within Israel. Participants do not travel to the West Bank or Gaza, areas of recurring violence.
Gordon said she felt safe throughout her experience in Israel.
"We had seven Israeli soldiers as guards," she said. "The only time I felt slightly in danger was at the Golan Heights. We could see the Green Line and the border of Israel and Palestine."
Though many students who travel to Israel through the Taglit-Birthright program see it as a religious experience, Michael Faber, the college's Jewish chaplain and director of Hillel, said religion is a side note to the primary goal of the trip.
"The purpose is to present the opportunity to … experience a sense of community over the course of 10 days," he said.
Faber, also a chaperone on Taglit-Birthright trips, said the journey holds a special meaning to a student's Jewish identity.
"Israel is a warehouse of Jewish memory," he said. "This trip serves as an effort to help connect Jewish students to a place that holds deep cultural value in Jewish life."
Faber said the college usually organizes trips during winter break, but many students go on independent trips during the summer.
Sophomore Aaron Rivkin has been to Israel twice — once with Taglit-Birthright, and most recently performing community service near the northern border. He recalled the grace with which Israelis received his group.
"You're completely accepted there. Everyone is like family. When you order fast food, you feel like it's your dad serving you family dinner," said Rivkin. "It's kind of a fuzzy feeling."
While Schek's decision to move to Israel is a relatively uncommon one, his connection to the country is common. Jacob, whose father is a rabbi, said it wasn't until the Birthright trip that he felt a personal motivation to observe the religion.
"I was raised in a very Zionist, very pro-Israel household," Jacob said. "Judaism was thrust upon me. Before, I was religious because I had to be. Now I'm religious because I want to be."